Obama Turkey Pardoning Livestream 2016: How to watch the president give a bird a free pass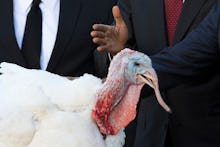 At least one of President Obama's Thanksgiving turkeys will have a reason to be thankful this season. In a White House tradition dating back decades, Obama will pardon his last of eight lucky turkeys at a ceremony on the day before Thanksgiving, Nov. 23 at 2:40 p.m. 
This year's turkeys, yes, there's a pardonee and an alternate (in case the chosen turkey misbehaves), hail from the recently red state of Iowa. According to the Des Moines Register, this is the sixth time a turkey from Iowa will be pardoned by a president. Last year's turkeys, Honest and Abe (the president gets to pick the names, based on suggestions from the public) hailed from California. 
While there's no official electoral college for poultry, being elected as the official White House pardoning turkey is a tricky business. The Iowa Turkey Federation selected fourth-generation family-owned farm, Domino's, to raise the presidential turkeys, all 20 of them, from which only two are selected to travel to Washington, D.C., This honorary flock is raised in a special barn, in Domino's case, a red, white and blue barn, and exposed to people and noise for most of their 18-week lives (this year's flock hatched in July) to prepare the chosen turkeys for the crowds at the November pardoning ceremony. 
The turkeys also auditioned, pageant style, to see who would look and behave best on a podium. This is serious business. 
On Friday, the two honored turkeys were treated to a send-off party in Storm Lake, Iowa, and then hit the road to make their journey to Washington. 
After Wednesday's pardoning, the spared turkeys will relocate to a farm at Virginia Tech, to peacefully live out their pardoned days. Rami Dalloul, poultry immunologist at Virginia Tech's College of Agriculture and Life Sciences Department of Animal and Poultry Sciences, will chaperone the turkeys during their time in Washington and help them settle in to their new home after the pardoning. 
Livestream the 2016 pardoning ceremonies (and annual dad jokes) at Whitehouse.gov.live. You can also follow along with #TurkeyPardon2016 and by tweeting @PrezTurkey. 
Those in the Washington area can also visit the pardoned turkeys during public visiting hours on Nov. 25 and 26 from 10 a.m. – 4 p.m. at Virginia Tech's Livestock Judging Pavilion.