Zayn Malik revealed he has an eating disorder. He's one of few male artists to do so.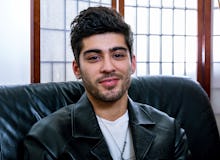 In his new self-titled autobiography, which went on sale today, Zayn Malik became one of the very few high-profile male musicians to reveal he had an eating disorder. 
In Zayn, the musician wrote about how adapting to his newly found stardom with One Direction drove him to develop an eating and anxiety disorder, and noted that it took him a long time to accept it.
"Something I've never talked about in public before, but which I have come to terms with since leaving the band, is that I was suffering from an eating disorder," Malik wrote in an excerpt, according to MTV. "It wasn't as though I had any concerns about my weight or anything like that, I'd just go for days — sometimes two or three days straight – without eating anything at all. It got quite serious, although at the time I didn't recognize it for what it was. 
For the R&B artist, the sudden fame led to a loss of control over his life. Food, however, was something Malik could easily take hold or away.
"I think it was about control," Malik added. "I didn't feel like I had control over anything else in my life, but food was something I could control, so I did."
Malik also revealed that the eating disorder became so severe that he was losing weight and becoming physically ill.
"I had lost so much weight I had become ill," Malik wrote. "The workload and the pace of life on the road put together with the pressures and strains of everything going on within the band had badly affected my eating habits."
It's not common for male musicians to be upfront about their experiences with eating disorders. While Elton John and Eminem have been outspoken about their struggles with bulimia and binge-eating behaviors, Malik is one of few male musicians of color to have ever come out publicly about his eating disorder. 
Men make up 25% of all people with eating disorders similar to anorexia nervosa and bulimia nervosa. According to the National Eating Disorder Association, about 10 million men in the U.S. will be clinically diagnosed with some form of an eating disorder in their lifetime. While men engage in eating disorder behaviors nearly as often as women, according to the National Association of Males with Eating Disorders, men often face unparalleled stigma for having a "women's disease."
Malik's revelation comes on the heels of Kid Cudi's bold admission that he would be checking himself into rehab for his depression, announced in spite of the stigmas that might have silenced a lesser artist. The Pakistani Irish singer's admission carries a similar weight, aiming to break the stigmatization of men battling with eating disorders simply through sharing his own experience. And exactly as Cudi's admission encouraged others to come forward about their mental health battles, Malik's seemed to be doing the same as the revelation spread across the internet. 
That's how you lead in the pop world, and one more reason that Zayn Malik's presence in the industry is about so much more than the music.