A week away from the election, millennial early voting shrinks in swing states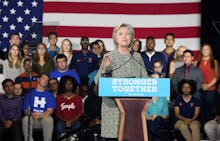 Voters this year are increasingly deciding to avoid the hustle and bustle of Election Day by casting their ballots ahead of time. With exactly one week remaining until the general election, more than 22 million Americans have already selected their candidates through early or absentee voting, the New York Times found.
However, one key group — millennials — emerges on the outskirts of the early voting movement. Compared to this point in 2012, the millennial early vote is down in 12 states, according to data obtained from the analytics firm Catalist. As of Oct. 31, Iowa, Ohio and Alaska have witnessed the largest drop in voting among 18- to 29-year-olds, with an estimated 3% change per state since the last presidential election cycle. Only one state, Colorado, shows slight growth in voting among the age group, the data reveals.
With 69 million millennials eligible to vote, high turnout holds the power to steer race outcomes. While data is subject to change, millennials this election are expected to gravitate largely toward the Democratic Party; according to an interactive map released by SurveyMonkey, Democratic candidate Hillary Clinton would win 504 electoral votes among millennials alone, almost double the amount needed to win the presidency.
A week away from the election, the campaigns are doubling down on efforts to motivate millennials to vote — and vote early. On Thursday, Democratic vice presidential candidate Tim Kaine stumped in Ohio in an attempt to steer young people toward the polls.
"If you haven't early voted, please do," Kaine urged a crowd of about 600 at Kenyon College, a Columbus-area private liberal arts college. "If you early vote, we can stop worrying about you, and spend all of our energy worrying about those who haven't voted."
Ohio, one of the swing states witnessing a drop in early voting, is almost tied between Clinton and Republican candidate Donald Trump. RealClearPolitics currently projects Trump will capture 46.8% of the vote and Clinton 44.3%.
While Ohio is not necessarily vital for Clinton to win — she can still snag the presidency through her leads in other swing states — the Democratic Party has amped up its appearances in the Buckeye State as the election nears. On Monday, Clinton rallied in the Buckeye State, and President Barack Obama will make an appearance there Thursday to encourage early vote turnout.
Still, this year, Trump has held 15 public events in Ohio, compared to nine for Clinton. And in northwest Ohio, Clinton has visited the area once and Tim Kaine has not visited at all, while Trump and his running mate Mike Pence have spoken there six times.
Kaine's speech about early voting struck a chord at Kenyon College, which has a colorful history with elections. In 2004, Kenyon and its township of Gambier gained national attention when voters had to wait up to 11 hours in line to vote. According to the New York Times' coverage of the event, the county only provided two voting machines for the school's 1,300 voters.
The college, home to 1,600 students, is predominantly liberal but located in a mostly Republican county. This year, "Ohio Together" fellows at Kenyon have spent the past few weeks driving students to the local Board of Elections to vote early, in order to avoid a repeat of what happened in 2004.
Anya Schulman, a 21-year-old English major from Buffalo, New York, is one of an increasing number of Kenyon students making the trip to vote early. Schulman, who said she knew her vote "counted more" in Ohio, chose to register in Knox County rather than at home.
Maddie Farr, a 20-year-old religious studies major, is from Cleveland, but she chose to vote early in Knox County rather than make the two-hour trip north.
"I didn't want to have to fill out an absentee ballot when I could just fill out a vote where I'm living," Farr said. "I feel more invested in what's happening in Knox County than back at home. This is such a small county, and really every one of our votes count. It's cool to feel that I'm engaged in the same sort of political event and fight that my peers and fellow community members are engaged in."
Farr, who said she worries college students might not find the motivation come Election Day to vote, urges her peers to take advantage of early voting hours.
"I knew that Election Day was going to be really stressful and busy, and I didn't really want to wait in line," Farr said. "Now, I can volunteer for the campaign more and I can help out on that level. I don't have to worry about my own vote because I know that I voted. I know that I've done my part in that sense, so now I can focus on other things."