Pulse nightclub shooter's wife Noor Salman gives first interview since Orlando massacre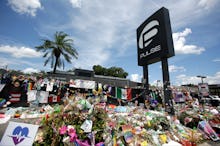 Omar Mateen killed 49 people and injured dozens more at Pulse, a gay nightclub in Orlando, before being fatally shot by police in June. Now Mateen's wife, Noor Salman, has opened up in her first interview since her husband committed one of the deadliest mass shootings in U.S. history. 
In an interview with the New York Times published Tuesday, Salman said she did not know of her husband's plans to commit mass murder. 
"I was unaware of everything," she said. "I don't condone what he has done. I am very sorry for what has happened. He has hurt a lot of people."
On June 11, the night of the attack, Salman asked him not to go out, hoping to spend the Saturday night together as a family with their 3-year-old son. But Mateen said he had to "see a friend" and kissed her goodbye, the New York Times reported.
After the attack, Salman was questioned by the FBI, the New York Times reported, and she may still face charges for "lying to the FBI," the Times reported. But Salman told the paper she had no knowledge of, or role in, her husband's plans. In fact, she was also the victim of physical abuse from Mateen. 
Salman, a child of immigrants from the West Bank who grew up in Rodeo, California, met Mateen on a dating website in 2011. When they married, according to the New York Times, she did not know that he had physically abused his first wife. She told the New York Times that at first, Mateen was "a gentle spirit," but his personality changed after they had been married just six months. Mateen began hitting her, calling her "shar" — which means "whore" in Arabic — pulling her hair, choking her and threatening to kill her.
Salman told the New York Times she was scared to leave Mateen: Her husband would tell her that if she ever tried, he would make sure to get custody of their son, telling her, "You have no proof I hit you."
Not only did Salman say she had no idea of her husband's plans to stage a massive and deadly attack, she also said she had no idea that a trip they took to Orlando as a family shortly before the attack was actually an opportunity for him to scope out Pulse. The last text Mateen sent Salman came after news of the shooting had already begun to break. It said, "I love you babe." Salman didn't find out until later that same morning that her husband had killed 49 people and then died in a shootout.
Since the Pulse attack, Salman told the New York Times, she has been afraid to watch television for fear of seeing her husband's name, and that many days, she doesn't get out of bed. 
Salman is anxious to avoid the media — she's moved three times since June — but she spoke to the New York Times because, she said, "I just want people to know that I am human."