WikiLeaks emails: Hillary Clinton ally said Bernie Sanders should be "ground to a pulp"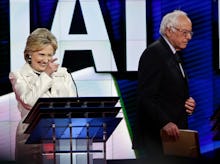 No love lost there!
The latest trove of emails from Hillary Clinton's inner circle made public by WikiLeaks includes an ally urging her to show Democratic primary rival Bernie Sanders "no mercy."
"Bernie needs to be ground to a pulp. We can't start believing our own primary bullshit. This is no time to run the general," warned the writer, identified by WikiLeaks as Joel Johnson, who they describe as a "Clinton insider, DC lobbyist" per the tweet below.
The note — which was published by WikiLeaks with the heading "Friendly Advice. No Mercy" — continued of Sanders: "Crush him as hard as you can. Other than that, hope all is well and congrats on Nevada!"
Johnson couldn't immediately be reached for comment.
The brutal primary generated dissent that extended even to the very floor of the Democratic National Convention in Philadelphia and left many Sanders fans disillusioned with the party.
Still, the Vermont senator has campaigned with and for the Democratic nominee, calling her a far wiser choice for the Oval Office than Republican Donald Trump, who's fond of reprising some of Sanders' primary attacks on Clinton for his own gain.
Sanders, who particularly electrified young voters during his battle with Clinton, recently announced a 12-state barnstorming sweep on her behalf in the run-up to the Nov. 8 election:
WikiLeaks just released its 25th installment of "The Podesta Emails," named for Clinton campaign manager John Podesta.
Other WikiLeaks-released emails raised questions about whether Clinton ally and former CNN contributor Donna Brazile slipped the campaign advance information regarding debate topics, which she denied, and horrified Sanders fans by illustrating the extent to which the party strove to make sure Clinton won the nomination.