Amid Philadelphia's mass transit strike, concerns over the city's ability to vote arise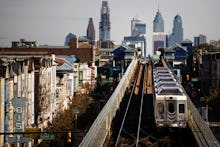 On Monday night, Transportation Workers Union Local 234 — the organization responsible for operating Philadelphia's public transportation system, the Southeastern Pennsylvania Transportation Authority — went on strike. The protest not only leaves hundreds of thousands without access to the city's subway, bus and trolley lines, but could also impact Philadelphia's voter turnout, should the strike extend to Nov. 8. 
Philadelphia, the fifth most populous city in the United States, is a liberal bastion in the state of Pennsylvania, which is often one of the most hotly contested political battlegrounds in the country. The state is a prized victory with 20 electoral votes and could play a key role in the 2016 election. In 2012, Mitt Romney won 54 of Pennsylvania's 67 counties but still fell to Barack Obama by 5.5% due to strong turnout in Philadelphia, according to CNN. The city and its surrounding suburbs make up nearly a third of the state's voters, effectively making it a democratic lifeline in an otherwise red state, save for Pittsburgh. 
But if Philadelphians can't travel to polling booths due to SEPTA's strike, the number of votes could decrease — particularly among minorities, who ride SEPTA the most, and overwhelmingly plan to vote for Hillary Clinton.  And with Donald Trump and Clinton close in the latest polls, this lack of votes in a battleground state could have a consequential impact on the 2016 presidential election. 
"Certainly we're hoping [SEPTA and the TWU] can come to a resolution, but we are concerned," Commissioner Lisa M. Deeley of the Philadelphia City Commissioners, the board responsible for handling elections and voter registration in the city, said. "We can't predict the exact impact, but [the strike] could limit availability, and if it does it will have a measurable effect."
Philadelphia is fortunate to have a vast number of polling locations — 1,686, to be exact, according to another spokesperson from the PCC — which registers voters by neighborhood location. Most civilians can vote within several blocks of their home, but, the problem lies within commuters who could potentially have to race back to their local polling booths in time. 
"Today my job was gracious enough to let us work from home, but if the strike continues, I'll have to find a way to go back to work at least by the end of this week," Celeste Sumo, a West Philadelphia resident who works on the eastern side of the city, said. "Given what's up with SEPTA, it's coming down to work or voting. I am lucky to have flexible time and hours but I know a lot of friends who work hourly who don't have that luxury."
Sumo said she expects long lines at the voting booths along with major traffic jams heightened not only by the strike, but the city's desire to vote in one of the most critical elections in modern American history.  
There have been numerous reports of the strike's paralyzing effect on the region since TWU Local 234's nearly 4,700 employees walked off the job. The Philadelphia Inquirer cited instances of 90 minute driving commutes, "hack" cabbies charging $30 fares into Philadelphia's downtown and a backed up Interstate 95, which passes directly through the city, as far as the eye can see. To make matters worse, Philadelphia Magazine reported TWU workers picketing in the middle of the remaining commuter train yards in operation: 
The workers brought a near halt to the only means of public transportation in the city right now, provoking quite a bit of backlash and causing Regional Rail to cancel a "significant" amount of trains, as many crews could not make it to where they needed to go.
Hillary Clinton's camp is well aware of SEPTA's potential impact on Election Day, as Pennsylvania Democratic Rep. Bob Brady said the strike "prompted concern" for Corey Dukes, the director of Clinton's Pennsylvania campaign, according to the Inquirer. 
But other members of the Clinton campaign remain positive and back the TWU's decision to strike, which is due to "pay raises, enhanced pension benefits, maintained health care coverage levels and continued job security."
"I fundamentally believe in workers' rights to unionize and strike," Malcolm Kenyatta, a Community Advocate based out of North Philadelphia who has campaigned for Clinton, said. "My hope is that they come together and figure out a solution that makes sense for both sides.
"The good news is that most people live close to their polling places, within walking distance," Kenyatta continued. "I don't think [the election] is going to be affected that much, and I'm optimistic SEPTA and the TWU are going to be able to work this out."
When Mic mentioned Brady and Dukes' comments to Kenyatta, he said: "Corey and Bob obviously know their stuff really well, but ultimately I think [SEPTA and the TCU] are going to figure it out. Outside of the election, we need to make sure workers are respected and both sides are putting out a plan that's fair on either side of the issue. I know the campaign is going to be working overtime to make sure folks that need help getting to polls will get a ride."
Whether or not Philly's jam-packed roads will be able to handle to influx of voters, remains to be seen, however.
In the event the strike extends to Nov. 8, Election Day, SEPTA said it plans to file an injunction from U.S. District Court  to force TWU members back to work. Carla Showell-Lee, SEPTA's Director of Media Relations, said this process would seek a temporary one-day break from the strike, though there's no guarantee the courts would approve it. 
When asked about the city's mounting complaints against SEPTA regarding the strike, Showell-Lee said, "We're always listening to our customers and we have set up a command center to monitor the strike's effects. We understand the riders' sentiments and we're doing our best to make sure everyone's questions are answered."
A spokesperson from TWU Local 234 denied multiple requests from Mic for comment.