Bono named one of women of the year by 'Glamour,' is not a woman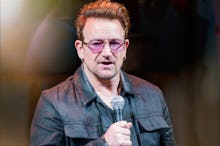 Bono, lead singer of U2 — and a man — has just been named to Glamour's annual Women of the Year list. And since it's a decision that seems to defy all logic, Glamour editor-in-chief Cindi Leive came ready to defend it.
"We've talked for years about whether to honor a man at Women of the Year and we've always kind of put the kibosh on it," Leive told the Associated Press. "You know, men get a lot of awards and aren't exactly hurting in the celebration and honors department. But it started to seem that that might be an outdated way of looking at things, and there are so many men who are doing really wonderful things for women these days."
She added, "Some men get it and Bono is one of those guys."
And so, Bono has the distinct honor of being the first man to ever receive the honor, joining the likes of Olympic gymnast Simone Biles, plus-size model Ashley Graham and "Emily Doe," the sexual assault survivor in the Brock Turner case.
In the accompanying Glamour piece, CNN correspondent Christiane Amanpour commends the singer on his humanitarian work, including "[bringing] about $100 billion in debt cancellation for 35 of the world's poorest countries," and persuading President George W. Bush to provide funding for AIDS drugs in Africa in 2004.
Bono, she adds, specifically places women's rights at the forefront of his new "Poverty Is Sexist" campaign, an initiative that calls for men to address the way poverty disproportionately affects women.
The singer's philanthropic resume speaks for itself. Still, it's hard not to immediately think of fictional Parks and Recreation character Ron Swanson winning his own Woman of the Year award and wonder — is this real life?
The irony certainly wasn't lost on Twitter users who took Glamour to task for the move:
Bono told Glamour he can hardly believe it either.
"I'm sure I don't deserve it," he said. "But I'm grateful for this award as a chance to say the battle for gender equality can't be won unless men lead it along with women. We're largely responsible for the problem, so we have to be involved in the solutions."
Mic reached out to Glamour for additional comment and will update this story if we hear back.