How to donate food for Thanksgiving 2017: Organizations, online giving ideas and more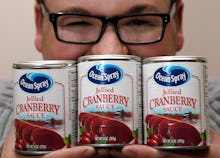 Thanksgiving is a time of gluttony for many, but with 12.3% of American households experiencing food insecurity in 2016 — that's 15.6 million U.S. households lacking access to nutritious food — we can't forget that the feasting season can be tough for those who struggle regularly to put food on the table. 
For those in a position to share the Thanksgiving spread, plenty of organizations are eager for donations.
Find your local food bank
Perhaps the easiest way to donate food for a family's Thanksgiving feast is to locate your local food bank and contribute nonperishables or whatever they're specifically in need of. Start a can drive at your or have friends and family bring a nonperishable food item to your next gathering in order to collect food to donate.
Sponsor a family meal
Help a family in need create a Thanksgiving meal by working with the nonprofit Family to Family. There are options for all levels of food donations, from donating money online to creating a local group to shop or give grocery gift cards to a neighborhood family. 
Donate milk
While cartons of milk are difficult to donate in-person, the Great American Milk Drive allows you to donate as little as $5 to provide milk to a child in need. The donation works by providing vouchers to families so that they can get fresh milk at grocery stores. 
Donate a Blue Apron meal
Join Blue Apron's annual Thanksgiving dinner drive to help donate more than 90,000 meals to families in need this Thanksgiving.
Start a virtual food drive
The Food Bank for New York City offers a digital food drive in which every dollar donated provides five meals to New Yorkers in need. Individuals and groups can create their own campaigns and share on their social networks so friends can donate.
Get a turkey on the table
A charitable (and significantly less creepy) Thanksgiving version of Elf on a Shelf is Turkey on the Table. It's an interactive family project that partners with Feeding America to provide 10 meals to people in need. Kids will write what they're thankful for on the turkey's feathers in the days leading up to Thanksgiving, and you can feel good knowing that Turkey on the Table has donated over 100,000 meals to date. Order a kit here.
Make food purchases that give back
During the holiday season, many big food brands and supermarkets partner with charities to provide holiday meals. Look for special promotions at your local store or brands like General Mills and Kellogg, which have pledged to donate a small percentage of proceeds to help feed hungry Americans.
Correction: Nov. 20, 2017
Nov. 19, 2017, 10:32 p.m.: This story has been updated.