How many emails did Hillary Clinton delete? And other common election questions, answered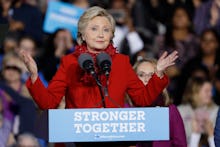 In one week, the nation will vote for a new president: Democrat Hillary Clinton or Republican Donald Trump.
Here's a rundown of some common questions voters have about Clinton and her campaign in the final stretch of a long and grueling election season.
How many emails did Clinton delete?
The much-maligned private server Clinton used during her tenure as secretary of state (that's the one Trump mentions incessantly as evidence of her corruption) processed both Clinton's personal and work-related emails for years. According to the Washington Post, the basement server processed approximately 62,320 emails through the address hdr22@clintonemail.com.
In 2014, Clinton's lawyers sorted through all of these messages in order to fulfill a State Department request; of the original 62,320, PolitiFact reported, the team turned over roughly 30,000 "work-related" emails and deleted the remainder, meaning somewhere in the neighborhood of 32,000 to 33,000 emails were destroyed.
The FBI later recovered approximately 17,000 of the deleted emails. Although investigators determined thousands of those were in fact work-related, according to PolitiFact, the FBI did not believe Clinton's team intentionally misclassified any of them as personal to avoid handing them over.
While it's possible there are more emails in question (possibly on a computer belonging to disgraced former Congressman Anthony Weiner), no evidence of such has ever been publicly released by investigators. So any theories regarding those are strictly amateur hour.
How long did Clinton hold office?
Clinton has held numerous offices throughout her long career in government and public service. 
After serving as the first lady of Arkansas from 1979 to 1981 and 1983 to 1992, Clinton was first lady of the United States from her husband Bill Clinton's inauguration as president in 1993 to the end of his presidency in 2001. Clinton was then a U.S. senator representing New York from 2001 (a role she assumed weeks before her husband formally left office) to 2009.
Finally, Clinton was President Barack Obama's secretary of state from 2009 to 2013.
All told, that's roughly 32 years of public service, not counting various minor, early roles related to public service (such as working as a House Judiciary Committee legal adviser during Watergate, or roles with various private or publicly funded nonprofits like the Legal Services Corp.).
What is Donna Brazile's link to Clinton?
As the former first lady of a relatively popular Democratic president, senator and member of the Obama administration, it's unsurprising Clinton has made numerous allies among Democratic Party elites.
Those ranks include Donna Brazile, a former campaign manager for Clinton Vice President Al Gore, who took over as chair of the Democratic National Committee in July. The previous DNC chair, Debbie Wasserman Schultz, resigned after leaked emails revealed she tolerated bias in DNC staff against Clinton's primary competitor, Vermont Sen. Bernie Sanders.
Brazile, however, seems to have been guilty of even more egregious misconduct than Wasserman Schultz. While holding down a commentator gig with CNN, Brazile apparently may have passed on questions to the Clinton campaign before a debate and separate town hall between the now-nominee and Sanders. These allegations forced Brazile to resign her position at CNN and whether they will affect her tenure at the DNC remains an open question.
Where do Clinton's polling numbers stand right now?
Simply put: Good, but not good enough.
The Trump campaign's numbers plummeted in recent weeks due to numerous high-profile scandals including investigations into his family charity, revelations about legally dubious methods he may have used to avoid paying taxes and a leaked 2005 videotape of Trump bragging about sexually assaulting women. But they have recently recovered somewhat due to both inevitable tightening of the polls in proximity to election day and renewed FBI interest in Clinton's emails.
FiveThirtyEight, which aggregates state and national polls, put Clinton's chances of winning the presidency at 69.8% as of Tuesday night in their model incorporating historic and economic data. Trump stood at 30.1% — long odds, but much better than recent weeks when he came close to single digits in the site's model.