Easy Thanksgiving soup recipes that'll feed a crowd and are also delicious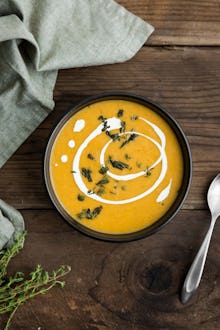 Soup season is in full force and there's no reason you shouldn't expand your pre-feast stomach (that's a thing, right?) with some liquid deliciousness this Thanksgiving. 
Best of all, soups can be made well in advance of Thanksgiving, frozen and then reheated easily before the feast, nixing any extra work you'd have to do for a first course when preparing a major meal. Here are some soup-spiration for your Thanksgiving feast:
Roasted squash soup with apples and soju
Get all the best flavors of the season in one spoonful, with this autumnal soup that's just sweet enough to make you eager for dessert already. Get the recipe here.
Creamy double potato soup
Who said potatoes have to show up for the main course? This soup uses both sweet potatoes and white potatoes to get all that potato goodness in one bowl. Get the recipe here.
Creamy Thai carrot sweet potato soup
Spice up your Thanksgiving with this curry paste and veggie-broth based soup. Chopped almonds and herbs on top look extra elegant for guests! Get the recipe here.
Creamy roasted pumpkin soup
Celebrate all that is great about pumpkin season with this seriously creamy soup. If you're worried about guests filling up on this rich orange soup, serve it in shooters for creamy portion control. Get the recipe here.
Roasted garlic sage pesto pumpkin soup with spicy fried pumpkin seeds
Okay, this may not be the easiest soup to make, so enlist some help for the pesto and pumpkin seeds. But serving this steamy soup out of mini pumpkins on Thanksgiving Day pretty much guarantees you win the holiday. Get the recipe here.
Roasted butternut squash and bacon soup
Roasting butternut squash and bacon results in a super easy, super savory soup that will soon become your family's Thanksgiving staple. Get the recipe here.
Creamy potato kale soup
Get in your greens before the full meal starts with this simple soup recipe which gets all of its creaminess from potatoes. Okay, and butter. Get the recipe here.
Roasted celeriac soup with thyme
This root vegetable doesn't get enough love at Thanksgiving but it's time to change that. This celeriac soup is lighter than you'd expect and a great way to kick off a holiday meal. Get the recipe here.
And for leftovers... 
Turkey pot pie soup
Your leftovers get a major facelift with this easy, creamy soup recipe. Get the recipe here.
Turkey pho
Let your turkey leftovers live their best life by converting them into Vietnamese noodle soup. Shop for the ingredients in advance so you're ready to curl up with a bowl of turkey pho after a day of shopping on Black Friday. Get the recipe here.
Creamy poblano and turkey soup
Even mashed potatoes get a second life with this turkey soup recipe that uses the leftover carbs to add creaminess to the soup. Poblanos add an extra kick to wake you up from Thanksgiving night's food coma. Get the recipe here.
Leftover Thanksgiving turkey congee
Turn the surviving remnants of the turkey feast into a savory Chinese porridge. Get the recipe here. 
Slow cooker creamy turkey rice soup
The last thing you may want to do after cooking an entire Thanksgiving meal is cook more, so leave it to your slow cooker to turn your leftovers into a delicious and hearty turkey soup. Get the recipe here.