Who is leading in the polls, Hillary Clinton or Donald Trump? Here are the latest figures.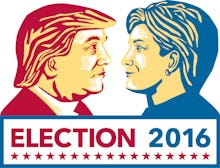 Six days until the election and the polls are looking very close, as they are historically wont to look in the lead up to the big day. While Democratic nominee Hillary Clinton maintains her lead over Republican opponent Donald Trump, that lead is slim, with a few polls showing the candidates tied or even showing Trump in the lead. 
According to Real Clear Politics, Clinton leads by an average of just under 2%. A poll by NBC News/Survey Monkey, released Monday, suggested that FBI Director James Comey's unexpected announcement on Friday — in which he told Congress the bureau was revisiting its investigation into Clinton's private email server — didn't move the needle in any significant way. According to the poll, 47% of those polled supported Clinton, while 41% backed Trump, results that were more or less unchanged from the previous week. 
The gap between Clinton and Trump is nonetheless narrowing
An ABC/Washington Post poll released Sunday also found that most voters didn't care about this latest email episode, which may or may not have something to do with the fact that these emails belong to Huma Abedin, Clinton's top aide, and not Clinton herself. It remains unclear whether or not this batch of emails — found on the computer of Abedin's estranged husband, chronic sexter Anthony Weiner in the course of a separate FBI investigation into his inappropriate sexts — have anything to do with the private server Clinton used as secretary of state.  
That same poll, however, put Clinton just one point ahead of Trump, and shows that, since Sunday, even a negligible Trump lead seems to have shrunken. Another ABC/Washington Post tracking poll released Tuesday put Trump one point ahead of his opponent, while the outlets' Wednesday poll reports that the candidates are tied at 46% support. It also highlights an honesty problem in this race: Of those polled, 46% rated Trump more honest, compared to 38% for Clinton. 
In any case, it's not the only poll to put the candidates neck and neck in their race to the White House: An IBD/TIPP tracking poll released Wednesday also has them deadlocked at 44%, with Trump primarily drawing his support from white men and Clinton backed by African-American and Hispanic voters, women and the under-44 set. 
An USC Dornsife/L.A. Times "Daybreak" poll for Wednesday puts Trump and Clinton at about 48% and 42%, respectively. Since July, however, this poll has pretty consistently charted a Trump lead, with Clinton overtaking him on just a few occasions.
But a close race isn't surprising this close to the election
According to FiveThirtyEight, Clinton's odds of winning the election are far greater than Trump's: 69.4% to his 30.6%, when polls, historical data and the economy are taken into account. This close to an election, and in this race in particular, polls can be misleading. 
According to champion election forecaster and FiveThirtyEight founder Nate Silver, they tend to reflect a narrower race the closer we come to an election. We can attribute this phenomenon to "herding," which Silver describes as pollsters coming up with survey results that mirror their peers'. Outliers are culled from the herd as the election draws nearer and, increasingly, polls are indicative of very little, except maybe that no one can know what the future holds.