Top Texas Republican official calls Hillary Clinton the c-word on Twitter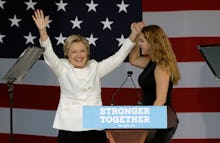 Texas Agriculture Commissioner Sid Miller, a Republican and supporter of GOP nominee Donald Trump, called Hillary Clinton a "cunt" in a since-deleted tweet on Tuesday afternoon.
Blasting out the results of a poll from Pennsylvania that showed Trump ahead, Miller tweeted, "Trump 44, Cunt 43. Go Trump Go!"
Miller has since deleted the tweet, but not before it was captured by a number of Texas-based reporters.
It was his second tweet of the day that mentioned the c-word.
Around noon, Miller responded to another Twitter user who referred to Clinton as "cunt."
Miller bungled an apology for the tweet.
First, Miller tweeted that his account was "hacked."
He deleted the tweet with that claim shortly after it was sent, and proceeded to throw a staffer under the bus, saying a staffer had "retweeted" the tweet without looking.
However the tweet in question wasn't a "retweet." It was a tweet sent by Miller's own account.
Miller is one of Trump's top surrogates, going on television to tout Trump's candidacy.
Trump himself even touted Miller during a rally Sunday in Las Vegas, calling him a "great guy on television today," according to the Texas Tribune.
This is not the first time Trump supporters have used sexist and offensive language about Clinton.
Many Trump supporters wear t-shirts with sexist language, referring to Clinton's sexual prowess and using words such as "cunt" or "bitch."
Trump himself has gotten into trouble for using offensive words about female genitalia stemming from a leaked 2005 tape in which he bragged about grabbing women "by the pussy."