Vegan Thanksgiving recipes 2016: Main dishes, dressings, stuffings, desserts and more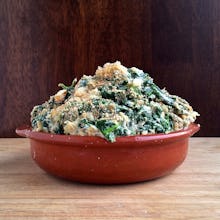 Sure, turkey takes a front row seat to sweet potatoes on some tables, but Thanksgiving doesn't have to be unfriendly to vegans! 
Main dishes, sides and desserts can all be animal product-free, celebratory and delicious. For a Thanksgiving meal that appeases vegans (and non-vegans!) check out these festive recipes that don't use meat, eggs, dairy or honey.
Tofurkey roast
Tofurkey gets a seriously bad rap, but instead of just preparing it out of the box, dress is up with a fresh sauce, herbs and vegetables for a vegan turkey worth feasting on. Get the recipe here.
Curried carrot soup
Add some spice to your Thanksgiving with this curried carrot soup, made creamy with coconut milk. Get the recipe here.
Hasselback potatoes
Anyone who has a knife, a potato and an oven can make these simple but seriously impressive potatoes. Get the recipe here.
Vegan creamed spinach
Who needs real cream when you have almond milk and cashew milk to add richness to this spinach dish. Get the recipe here.
Kale salad: fall edition
This uncooked kale salad is a much-needed refresher in a heavy Thanksgiving meal. Ingredients like apple and pumpkin seeds make it extra seasonal! Get the recipe here.
Vegan zucchini gratin
Homemade vegan cheese makes this celebratory vegetable dish even more decadent. Get the recipe here.
Vegan green bean casserole
The classic Thanksgiving side gets a dairy-free makeover with this recipe that may even be better than the original. Get the recipe here.
Stewed cranberry beans with kale
Switch out or supplement your regular cranberries with cranberry beans, which offer additional protein and a savory flavor that can be used to top mashed potatoes, polenta or enjoyed on their own. Get the recipe here.
Mouth-watering crispy brussels sprouts
It's not Thanksgiving without sprouts. Cook them crispy to convert your entire table to veganism. Get the recipe here.
Simple vegan spicy mac and cheese
Cheese who? If mac and cheese is part of your typical Thanksgiving meal, veganize it! With these creamy noodles no one will even notice the cheese is missing.  Get the recipe here.
Low carb "sweet potato" casserole
Sub butternut squash for sweet potato in this sweet and slightly spicy casserole and melt vegan marshmallows on top for a sticky finish. Get the recipe here.
Raw pumpkin pie
Take the pain out of baking with this raw pumpkin pie, made with a vegan nut crust and a sugary pumpkin filling. Get the recipe here.
Vegan pumpkin bread pudding
Stuff yourself at the very end of the meal with this sweet and oh so spoonable bread pudding. Get the recipe here.