Before he dismissed Anthony Weiner as a "perv," Donald Trump was his political patron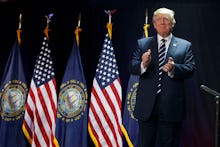 Donald Trump can't stop thanking Anthony Weiner lately.
An investigation into Weiner's alleged sexting with a 15-year-old girl has revived questions about a private server used by Trump rival Hillary Clinton on the cusp of the election and the GOP nominee seems wildly appreciative.
Ironically, it wasn't too long ago Weiner might have been the one to say thanks — for the thousands in campaign cash he got from Trump over the years to fuel his own political ambitions.
Weiner is married to Huma Abedin, a top Clinton aide who left her spouse this summer after the publication of lewd selfies he'd snapped with the couple's young son beside him in bed.
Fully a year before the separation, Trump used a Massachusetts campaign stop to accuse Abedin of letting the disgraced Weiner in on sensitive information she handled during Clinton's tenure as secretary of state.
Now that the FBI is reportedly digging into emails on a laptop used by both Weiner and Abedin, Trump and his fans are saying Trump miraculously predicted the new developments last summer.
Trump slimed Weiner during that 2015 rally as "a perv" and "one of the great sleazebags of our time," the New York Daily News reported. He added that he'd known the sext-crazed Weiner "before they caught him with the 'bing bing bing,' and he was a bad guy then."
A Mic check of campaign finance records shows that even if Trump thought the guy was shady, it didn't stop him from pumping money into Weiner's campaign coffers as early as 1997.
That year, according to New York City Campaign Finance Board data, Trump donated $150 to Weiner, who was serving on the City Council at the time.
When the ambitious Weiner later jumped to Congress, Trump's money followed: Federal Election Commission records show Trump donated $2,300 to the Friends of Weiner committee in 2007. He threw in another $2,000 in 2010.
To be sure, Trump has consistently said that as a businessman, he naturally donated scads of cash to politicians of all parties — including Clinton herself, who attended his wedding to his third wife, Melania, in 2005.
Weiner, who has not responded to recent requests for comment, ran for mayor of New York that same year. After placing second in the Democratic primary, he passed on a 2009 bid — and got engaged to Abedin.
The couple wed in 2010 in a Long Island ceremony officiated by former President Bill Clinton.
Weiner's political future began to implode in 2011 when he got caught sharing tawdry pictures online. Following a botched cover-up, he resigned from Congress. The bombshell reports of Weiner's sextcapades coincided with news of his wife's pregnancy, but the pair stayed together.
When Weiner launched his longshot 2013 bid for the mayoralty, Abedin was at his side — and using her connections to help him fundraise. Despite some early traction, that run ultimately bombed as more sexting partners went public.
Amid the newly revived controversy, Abedin — usually a fixture at Clinton's side — has taken time away from the trail.
Millions had already cast ballots by Friday, when a letter from FBI Director James Comey brought the Clinton email issue roaring back to the fore. He had said in July that Clinton had been "extremely careless" with information routed through her server but did not recommend pursuing charges against her or her aides.
Comey has said he may not have an update on the case before voters go to the polls November 8.
With Election Day less than a week off, RealClearPolitics national polling averages show Clinton leading Trump, who's been dogged by his own brace of spiraling scandals, by less than 2 percentage points.