2 Des Moines, Iowa, police officers shot and killed in "ambush-style" attacks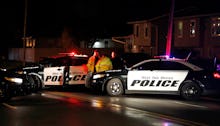 Two police officers in Des Moines, Iowa, were shot and killed early Wednesday morning in "ambush-style" attacks, according to multiple reports. 
Scott Michael Greene, 46, has been identified as the suspect in the shootings, according to the Des Moines Register. Greene was taken into custody Wednesday morning after a police manhunt.
The slain officers have been identified as Des Moines Sgt. Anthony Beminio and Urbandale Officer Justin Martin.
Greene was charged with two counts of first-degree murder, the Associated Press reported Thursday.
KCCI reported that an Urbandale officer was killed just after 1 a.m. Central Standard Time. The officer was sitting alone in his patrol car when he was shot, Des Moines Police Sgt. Paul Parizek said, according to the Associated Press.
A Des Moines city officer who was responding to the shooting alone was found shot and killed in his patrol car shortly after, just blocks away.
"In all appearances, it looks just like that ... that these officers were ambushed," Parizek said through tears at a press conference.
"On the surface, it doesn't look like there was any interaction between these officers and whoever the coward is who shot them while they sat in their cars," Parizek said.
The officers who were killed have not been identified. 
Nov. 3, 2016, 4:05 p.m. Eastern: This story has been updated.
This is a breaking new story and will be updated.