Presidential polls today: Nov. 2 polls show Hillary Clinton with edge over Donald Trump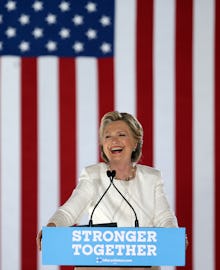 Less than a week out from Election Day, Hillary Clinton maintains her lead over Donald Trump in the national polling average, though the race has dramatically tightened over the past two weeks.
Clinton leads Trump by an average of 2.2 points in the RealClearPolitics four-way polling average, down from a 7-point lead two weeks ago.
The tightening of the race began even before FBI Director James Comey threw a last-minute bomb in the 2016 campaign, when he announced that the FBI would look into emails found on a computer of one of Clinton's top aides, Huma Abedin.
Analysts and pundits alike say the tightening was largely thanks to partisans "coming home" to their respective party's nominees. Trump, especially, was lagging in support from self-identified Republicans.
But either way, a close race in the home stretch of the race is giving Democrats heartburn.
Still, Clinton still has an advantage with six days to go until Election Day.
A new Bloomberg Politics poll released Wednesday morning showed Clinton leading independents by a 4-point spread in a two-way race. Republican nominee Mitt Romney carried the group by 5-points in his 2012 loss to President Barack Obama.
That same poll found that Comey's last-minute meddling in the race had little impact on voters' decisions. Those who said the new email review mattered were already voting for Trump, the poll found.
Early voting is also painting a different picture in some states than public polling.
For example in Nevada, a must-win state for Trump, the RealClearPolitics average in the state shows Trump with a .5-point lead. But early voting is tracking almost identical to the state's 2012 contest, which Obama won by nearly 7 points.
Polling analysts add that 2016 has far fewer "high-quality" polling in the last week of the 2016 campaign than at this same time in the 2012 race.
Some caution that an average of poor polls could paint an incorrect picture of where the race stands, though it's unclear which candidate that would benefit.
Polling also historically tightens in the final days of the race.
In 2012, Obama had a slim 0.1-point over Romney on this same date of the race.