Who is Johnny Depp playing in 'Fantastic Beasts'? Here's one theory.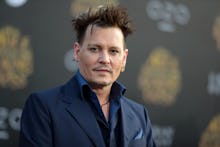 The first Harry Potter spinoff film, Fantastic Beasts and Where To Find Them, hasn't been released yet, but we've already learned big news for the franchise. Deadline reports that Johnny Depp will be joining the cast for its sequel — which, depending on your feelings about the actor, is either the best possible news or a potential series ruiner. 
Here's the catch: We don't actually know who Depp will be playing, though he will make a cameo in the first film to give viewers an idea of what to expect. However, fans already have a pretty good idea of who Depp could be playing — and why it's such a closely guarded secret. He could play a younger version of Gellert Grindelwald. 
Part of the plan for the Fantastic Beasts franchise, which will now be a whopping five movies instead of three, is to trace the mythic duel between Albus Dumbledore and Gellert Grindelwald. Grindelwald could, essentially, be the Voldemort equivalent for Fantastic Beasts: a master of the Dark Arts who proves to be deceptive to Dumbledore, whom he may or may not have been romantically linked to. 
What's more, the impending Dumbledore-Grindelwald duel is an important moment in the grand scope of the series. Dumbledore defeating Grindelwald gives him possession of the Elder Wand (back in Deathly Hallows, Voldemort briefly visits Grindelwald in Azkaban to learn about the location of the wand). 
Another way to understand the logic behind this theory — aside from the secrecy of Depp's casting — is the actor himself. Would Fantastic Beasts really sign on an actor like Depp for a throwaway role? Probably not. 
Depp could similarly play a young Dumbledore; the casting for that role also has yet to be announced. However, several Harry Potter fans on Twitter are convinced Depp will be Grindelwald — though that doesn't mean they're happy with the casting. 
The first Fantastic Beasts will be out Nov. 18, so fans should keep an eye out for Depp's cameo to learn who he might be playing.