Lindsay Lohan's strange new accent, "Lilohan," is confounding the world at large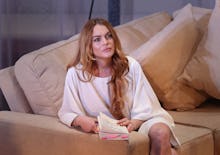 National treasure Lindsay Lohan loves to keep us on our toes. In the last year alone, she's announced a possible 2020 presidential run, spoken out about an impending Brexit, posed in a nightie in a supposed tribute to victims of terror attacks and has had her right ring finger severed in an apparent boating accident.
And when you consider all of these things together, it's only marginally surprising to hear that on Tuesday, Lohan debuted a completely unidentifiable and unrecognizable new accent. 
Lohan slipped into the strange accent while doing press for the nightclub she launched this month in Athens, whose decor, according to TMZ is "'abandoned factory' chic." In the video, Lohan tells reporters the nightclub entrepreneurial venture could one day expand to include spas and refugee camps, which makes sense given the star's recent humanitarian efforts in Jordan and Istanbul. 
It also makes sense if you don't think too hard about anything.
There are a few theories floating around that could explain the discrepancy, including that Lohan is invoking the identity of her fictional, English Parent Trap twin. Lohan told the DailyMail.com that she is tentatively calling the accent "Lilohan," and went on to explain its origins.
"It's a mixture of most of the languages I can understand or am trying to learn," she told the outlet. "I've been learning different languages since I was a child. I'm fluent in English and French can understand Russian and am learning Turkish, Italian and Arabic."
Leigh Dillon, a dialect coach based in New York City, said in an email that even though she's never worked with Lohan, it makes "logical sense" that the star would adopt this new accent.
"There are many factors that may influence a person's vocal and speaking patterns," Dillon wrote. "I love hearing when people make adjustments, whether consciously or unconsciously. It's all good. All creative."
"She's fascinating," Dillon continued. "She continues to develop, to grow, to reinvent herself; she is an artist."