Is the FBI investigating Donald Trump? What we know about the government probe.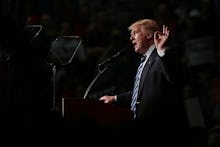 With less than a week to go until Election Day, the American people have somehow found themselves saddled with two presidential candidates currently under review by the FBI.
While the bureau investigates Democratic candidate Hillary Clinton for recently renewed suspicions about her emails, Republican candidate Donald Trump is simultaneously being investigated for his alleged campaign's ties to Russia.
Although speculation about Trump's connection to Russia reached a fever pitch over the summer, after accusations flew that Russian President Vladimir Putin's administration was behind a series of hacks of Democratic National Committee files, the FBI's probe of the Trump campaign has actually been underway for more than a year, CNN reported.
To Russia, with love
In the early months of 2016, Trump did nothing to quell mounting suspicions that his campaign was taking a special interest in Russia and its affairs. 
Right around the time of the damning attacks on DNC files, Trump was sending veritable love notes to Putin, calling him a great leader and parroting his stances on NATO, the annexation of Crimea in Ukraine and the war in Syria, according to the New York Times. 
But, as CNN pointed out, the FBI's line of questioning officially began months earlier in connection to Trump's former campaign manager Paul Manafort and his firm's political ties to Ukraine.
So far, no ties have been found
Clinton supporters continue to cry foul over the fruitless investigations, in part because of the FBI's bombshell announcement that it was revisiting the investigation into Clinton's email scandal with just days to go until the election. The investigation into Trump's connections to the Kremlin, however, hasn't yielded any suspicious discoveries thus far.
But with the chaotic ride that is the 2016 presidential election rounding the bend, it would surely come as a shock to no one if there were at least a few surprise revelations left in store.