World Series Livestream 2016: How to watch live on mobile and online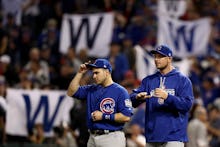 The Cleveland Indians and the Chicago Cubs have, combined, the longest championship drought at 174 years. That's a lot, but something's got to give in a decisive Game 7 of the 2016 World Series on Wednesday. 
The Indians took a 3-1 lead but, reminiscent of the Golden State Warriors' 3-1 collapse against the Cleveland Cavaliers earlier this year in the NBA Finals, have since coughed up two straight losses to the Cubs. Cubs manager Joe Maddon echoed that his players should be nervous ahead of Game 5 — and they'll be sure to face the same pressure Wednesday in a winner-take-all scenario. 
But for eager Cubs and Indians fans — or the casual sports viewer who wants to watch thousands of fans and athletes with palms sweaty, knees weak and arms that are heavy — how can one watch Game 7 online? 
For people with a cable subscription, you can stream the game on the Fox Sports Go website (and accompanying app on mobile). Similarly, games with be streamed on TBS Sports, though again, you will need a cable subscription for access. 
For viewers who want to watch without a cable login, things are a bit dicier. Thankfully, the folks at Cut Cable Today have offered a few non-cable World Series viewing options, including using Sling TV or a livestream through PlayStation Vue, among others. 
However you choose to do it, though, Game 7 is must-watch television. The World Series' decisive game begins at 8 p.m. Eastern on Fox.