A black church in Mississippi was set on fire and vandalized with the words "Vote Trump"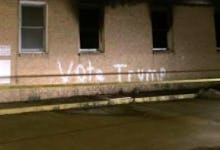 On Tuesday night, the Hopewell Missionary Baptist Church in Greenville, Mississippi, was set on fire and also vandalized with the words "Vote Trump" in white spray paint on the side of the building, local station WLBT reports.
No injuries have been reported and most of the damage occurred in the sanctuary, according to the Delta Daily News.
The FBI is investigating the incident.
"The FBI Jackson Division is aware of the situation in Greenville, and we are working with our local, state and federal law enforcement partners to determine if any civil rights crimes were committed," the FBI statement read, according to Therese Apel of the Clarion-Ledger.
A GoFundMe campaign to raise $10,000 for the church was set up by J. Blair Reeves Jr on Wednesday. Within four hours, the GoFundMe campaign had raised over $18,000 to help repair the church. 
This incident comes almost one year after a string of mostly black churches — all within the St. Louis area — were set on fire. 
There's a long history of attacks on black churches in the United States, the Atlantic pointed out. The burning of black churches dates back to slavery and continued into the civil rights era when Ku Klux Klan members bombed the 16th Street Church in Birmingham, Alabama on Sept. 15, 1963, killing four black girls. 
Then for one year between 1995 to 1996, about 145 black churches across the country were set on fire, resulting in Congress passing the Church Arson Prevention Act. 
The Greenville police department did not immediately respond to request for comment.
Nov. 2, 2016, 1:50 p.m.: This post has been updated.