When do the polls open? Here's when the polls in each state open Nov. 8.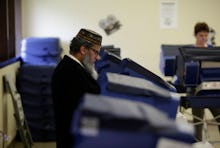 After a long and exhausting presidential election, the end is finally in sight. With Election Day now less than a week away, it's time for voters to get ready to head to the polls on Nov. 8 and make their choice between Hillary Clinton, Donald Trump or a third-party candidate.
Know the specific polling hours for your state
Though many Americans have already cast their ballot through early voting or absentee ballots, most will still be going to the polls in person on Tuesday. With election guidelines varying from state to state, however, it's important for voters to know what the specific polling hours are for the state in which they're registered.
When do polls open in each state on Election Day?
6:00 a.m.: Arizona, Connecticut, Illinois, Indiana, Kentucky, Louisiana, Missouri, New Jersey, New York, Virginia
6:30 a.m.: North Carolina, West Virginia, Ohio
7:00 a.m.: Alabama, Alaska, California, Colorado, Delaware, Florida, Georgia, Hawaii, Iowa, Kansas, Maryland, Massachusetts, Michigan, Minnesota, Mississippi, Montana, Nebraska (Mountain time zone), Nevada, New Mexico, Oklahoma, Pennsylvania, Rhode Island, South Carolina, South Dakota, Texas, Utah, Washington D.C., Wisconsin, Wyoming
7:30 a.m.: Arkansas
8:00 a.m.: Idaho (7:00 a.m. at the discretion of the county clerk), Nebraska (Central time zone)
New Hampshire, North Dakota, Tennessee, Maine and Vermont voters should check with their polling place directly, as opening times in these states vary by county and polling location. There are also no designated polling hours in Oregon and Washington, which are elections-by-mail states — though Oregon voters can vote on Election Day at a local municipal clerk's office. Voters can look up their polling place here.