The Congressional Black Caucus wants answers about Facebook's racial ad targeting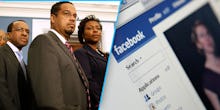 On Friday, a brief investigation by ProPublica found that Facebook's ad targeting system allows advertisers to exclude certain ethnic groups from seeing advertisements. If used to advertise housing, Facebook could be violating civil rights laws like the Fair Housing Act of 1968.
And now Congress wants answers. Members of the Congressional Black Congress — the organization of African-American members of the U.S. Congress — sent a letter to Facebook CEO Mark Zuckerberg Wednesday morning asking for an immediate response to the allegations:
It is our sincere hope that the advent of this customization micro-targeting feature was to be innovative and efficient, and that Facebook did not wittingly create this feature with the purpose of separating communities or violating federal civil rights law. That said, in light of this revelation, it is your responsibility as Facebook's Chief Executive Officer to remedy this matter swiftly and responsibly.
When the news first broke, Facebook defended the practice to Mic, claiming that this kind of targeting is "a common practice in the industry," insisting that its ad team takes swift action when ads are in violation of Facebook policies.
Facebook representatives saw the letter from the Black Caucus and repeated the assertion in an email to Mic on Wednesday morning.
"Multicultural marketing is a common practice in the ad industry and helps brands reach audiences with more relevant advertising," Facebook told Mic. "We've heard from groups and policy makers who are concerned about some of the ways our targeting tools could be used by advertisers. We are listening and working to better understand these concerns."