When do the polls close? Here's when the polls in each state close Nov. 8.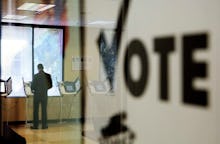 After months of seemingly endless campaigning, it's almost time to choose the next president of the United States. Though many have already voted through absentee ballots and early voting, most Americans will be headed to the polls in person on Nov. 8 to cast their ballots.
Voting guidelines vary by state
Every vote counts in this historic election, and voters shouldn't accidentally miss out by arriving at their polling place after the polls have closed. With each state setting its own election guidelines and polling hours, however, it's important for voters to know the specific polling hours for their their state before Nov. 8 arrives.
Here's what time the polls close in each state on Election Day:
Polls closing at 6:00 p.m.: Hawaii, Indiana, Kentucky
7:00 p.m.: Alabama, Arizona, Colorado, Florida, Georgia (8:00 p.m. in cities with a population of 300,000 or more), Illinois, Kansas, Mississippi, Missouri, Nebraska (Mountain time zone), Nevada, New Mexico, Oklahoma, South Carolina, South Dakota, Texas, Vermont, Virginia, Wyoming
7:30 p.m.: Arkansas, North Carolina, Ohio, West Virginia
8:00 p.m.: Alaska, California, Connecticut, Delaware, Idaho, Louisiana, Maine, Maryland, Massachusetts, Michigan, Minnesota, Montana, Nebraska (Central time zone), New Jersey, Pennsylvania, Rhode Island, Utah, Washington D.C., Wisconsin
9:00 p.m.: Iowa, New York
Polling hours in New Hampshire, North Dakota and Tennessee vary by county/polling place, so voters in those states should check with their polling place directly. Colorado, Oregon and Washington are elections-by-mail states, and though Colorado also offers in-person polling, Oregon and Washington have no designated polling hours. Oregon voters, however, can vote on Nov. 8 at their local municipal clerk's office. Voters can find their polling place here.