Forget 'Game of Thrones.' 'Vanderpump Rules' is the best drama on TV.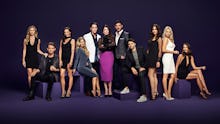 In "Bitch Slap," the penultimate episode of Vanderpump Rules' second season, SUR waitress Stassi Schroeder sets up a trap Niccolò Machiavelli himself would applaud. Her ex-boyfriend, Jax Taylor, said her best friend Kristen Doute slept with him, and has been lying to her about it. So she devises a plan: Get all their friends at one bar — including Jax — and invite Kristen and her boyfriend, Tom Sandoval. Then, she ambushes Kristen by having Jax confront her with the truth.
Kristen refuses to confess, and the situation escalates quickly. "You are a dirty fucking whore," Stassi screams at Kristen. She replies with a simple, eloquent, "Fuck you."
And then, the slap.
In an electric moment, Stassi backhands Kristen across the cheek, calling her disgusting. It's a rare moment of violence on a show that, mirroring the Real Housewives shows this series spun off from, mainly keeps the drama verbal. When things get physical, the viewer knows things have gotten serious. The slap was a sign that Kristen's lie had gone too far. Vanderpump Rules' second season couldn't end until she told the truth. Sure enough, come the season finale (titled "I Lied"), Kristen confessed.
This is how Bravo's drinks-and-drama series, starting its fifth season Monday, works. Each season centers on one question of infidelity, and doesn't tell the audience what really happened. For a show about the lives of waitresses and bartenders at Lisa Vanderpump's restaurant, Vanderpump Rules is surprisingly challenging. It's a fun and frothy reality show that, between bitchy bon mots, doubles as a meditation on fidelity and trust. It's the best drama on TV.
The question at the center of a Vanderpump Rules season is always a pretty simple one. Did Jax cheat on Stassi? Did Kristen cheat on Tom? Did Tom cheat on his new girlfriend, Ariana Madix? Did Kristen's new boyfriend James Kennedy cheat on her? 
Through the season, the audience never gets the real story; they only know what the players in the series say. Only after several weeks, usually at the end of the season, does the truth come out. The show itself isn't about that truth; in fact, the consequences of it are usually forgotten one or two seasons later (especially if the culprit was a man). Instead, it's all about perception.
Fans of the show have written for no less than the New York Times magazine about their love for the show, but Vanderpump Rules is often dismissed as empty calories: a reality show about passionless assholes doing nothing. That's certainly one interpretation, and it's a fair one. On its surface, this show isn't doing that much.
But what's so fascinating about Vanderpump Rules is how it transcends that surface. It's reflective of Los Angeles, its home city, in that way: It's pretty and polished on top, but there's a lot of darkness lying underneath. It's gratifying to see reality TV, an oft-dismissed genre, producing thorny, difficult work. 
Yes, almost every cast member is an asshole. So what? Where do you go from there? Which asshole do you root for? Vanderpump Rules challenges viewer perceptions of how much likability matters — and trusts that they'll still enjoy the show regardless. Few prestige, scripted series put that much faith in their audience.
When we last left our band of antiheroes at the end of season four, Stassi had returned from a self-imposed exile, successfully rekindling friendships with Kristen, Katie Maloney and Scheana Shay. Katie got engaged to Tom Schwartz, but her engagement party was nearly ruined by a drunk James and his flirtatious friend Lala Kent. Meanwhile, notorious playboy Jax looked ready to finally settle down with his girlfriend, Brittany Cartwright.
In the season five premiere, civil war breaks out between James and Lala and the rest of the cast, with Tom Sandoval and Ariana sandwiched uncomfortably in the middle. Katie and Tom Schwartz plan their wedding, with mixed results. And yes, there's once again another question about infidelity, with two different stories and a vague truth lying underneath them.
It may be a familiar formula, but the reveal of the accusation is jaw-dropping, and the mystery is even more compelling. The story editing on Vanderpump Rules is just brilliant, crafted so carefully as to keep up the thinnest illusion. Everyone on the show operates with full knowledge and understanding of the medium; they know what they've gotten themselves into. Combined with realistic, always-moving-forward plot, Vanderpump Rules presents a kernel of "real" that's all too rare on reality TV.
Like any TV show, Vanderpump Rules isn't for everyone; for some, the vapidity of the subject matter might be too much of an obstacle to overcome. But for those viewers who get sucked in, do yourselves a favor and scratch beneath the surface. You'll find some really compelling stuff below that veneer.
The season five premiere of Vanderpump Rules debuts Monday at 9 p.m. Eastern on Bravo.