'The Crown' Netflix Release Date: What time will the Queen Elizabeth II drama premiere?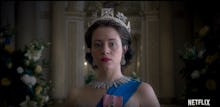 Netflix has produced a series about a queen — and it isn't about Beyoncé, or Michelle Obama, or even RuPaul. No, it's one of those old-school, literal queens in The Crown, an ambitious new period drama about the early life of Queen Elizabeth II. It is reportedly the most expensive TV series ever made, which is pretty impressive since we can almost certainly guarantee no CGI'd dragons or HBOrgies in its future. 
Early reviews for the show indicate it's worth the money, and the wait, with the potential to nab a few Emmy nominations next year for its acting and breathtaking set pieces. It could also fill a Downton Abbey-sized hole in some viewers' hearts. 
Interested yet? Here's when you can begin your new Netflix binge.
The Crown arrives Friday, and based on the previous release times for other Netflix originals such as Orange Is the New Black, you can expect it to come out at 3 a.m. Eastern. This is, in part, so viewers on the West Coast can ostensibly begin their binge right after midnight.
This means East Coast users could technically wake up at 3 a.m. and begin watching The Crown. But this is Netflix we're talking about — the show's not going away just because you're asleep. You can wake up the next morning refreshed, pour yourself a cup of tea and delve into mid-20th century England for the early years of a queen who's apparently fond of green screens.