12 vegetarian holiday recipes that'll feed and delight a crowd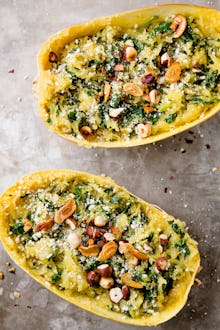 Oh cool, you're the token vegetarian at your family holiday dinner? Get ready for some defrosted and microwaved Tofurkey. Again. 
Well actually, don't do that. This year, say no to the faux-turkey and opt to bring, or make, an actually flavorful entree that will leave all the meat eaters eager to gobble your meat-free alternatives.
So cheers to a totally delicious, meat-free holiday! Here's what to make to send tofurkey to the grave of holiday foods past. 
Kabocha squash chowder with lobster mushrooms
It's cold out, chowder is comforting, why not make it your vegan main for the holiday? Get the recipe here.
Sweet potato and brussels sprouts stir fry with smoky tempeh
Stir fry as a main course? Yes, please! This tempeh-based recipe can replace turkey any day. Get the recipe here.
Vegan butternut squash and black bean chili
Say goodbye to bland vegan meat substitutes and get stuffed on chili this Christmas — a perfect addition to all the sides you usually fill up on. Get the recipe here.
Vegan beet wellington
No one will be asking where the beef (or turkey) is when you have this elegant entree on the table. Get the recipe here.
Smoky maple tempeh triangles
Lucky you, this vegetarian option is both sweet and savory and can be served alongside all the holiday classics. Get the recipe here.
Crispy oven baked honey garlic tofu bites
Especially on a day that the oven is going at all hours, these oven baked tofu bites are perfectly easy to add to the menu. Save some honey garlic sauce for your sweet potatoes! Get the recipe here.
Yam and peanut stew with kale
To add some crunch to a holiday meal that may be mushy, make this peanut stew that's both comforting and crunchy. Get the recipe here.
The ultimate holiday loaf with cranberry glaze
If you're in search of an entree that's rich in protein and still mimics turkey, this lentil, brown rice and veggie loaf is your new go-to for all the winter holidays. Tofurkey who? Get the recipe here.
Spicy vegan meatballs
If you're looking for a dish that you can load up with cranberry sauce and gravy, these meatballs offer the perfect opportunity to roll in for turkey. Try mixing in some herbs like rosemary and sage to amp up the seasonal flavor. Get the recipe here.
Garlicky brown butter spaghetti squash with greens and hazelnuts 
Squash, greens, nuts and cheese make all this squash boat enviable enough to make meat lovers jump ship and embrace a vegetarian holiday. Get the recipe here.
Vegan wraps
Who wants a slice of turkey when you can have an entire tasty wrap all to yourself? Get the recipe here.
Lentil Mushroom Walnut Balls with Cranberry Pear Sauce
These individual meat-less balls are easy to make, serve and share and the sweet dipping sauce goes with any protein on your plate. Get the recipe here.