How long are polling places open? Here's the full Nov. 8 voting schedule by state.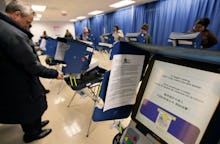 In a few days, voters across the country will go to the polls to make an important choice: Hillary Clinton or Donald Trump — or a third-party candidate? Voters are taking each candidate's positions and campaigns into account before casting their ballot on November 8, but it's also important know when to head to the polling place itself.
Polling hours can differ greatly
Election guidelines are specific to each state, which means polling hours can differ greatly based on location. Though some states have one schedule for all polling places, others leave the choice up to individual municipalities or base their times on a district's population size. To avoid getting caught off-guard and missing out on this historic election, here's a complete list of each state's Election Day polling hours.
Polling hours by state
Alabama: 7:00 a.m. to 7:00 p.m.
Connecticut: 6:00 a.m. to 8:00 p.m.