Kanye West, Kim Kardashian West take Alton Sterling's oldest son out for his 16th birthday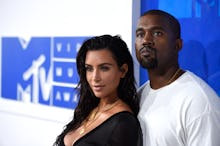 On Tuesday night, Kim Kardashian West made her first social media appearance since she was robbed at gunpoint in Paris back in early October. She appeared alongside her husband Kanye West and one other notable cultural figure: Cameron Sterling, the eldest son of late Alton Sterling, who was killed by police on July 5, 2016.
Justin Bamberg, the attorney for Sterling's family, tweeted a photo Wednesday night featuring Sterling's oldest son Cameron with a Saint Pablo tour pass standing between the power couple. 
"Shoutout to @kanyewest & @KimKardashian for showing 16th bday love last night to my client #CameronSterling, eldest son of #AltonSterling," the tweet read. It's just one more way the two have sought to use their platform to give back to victims and signal boost the issue of police brutality in the public eye.
Sterling was a 37-year-old black man selling CDs outside of a convenience store in Baton Rouge, Louisiana, who was assaulted and fatally shot multiple times in the chest and back by police officers. His death sparked nationwide protests and prompted numerous celebrities — including Kim and Kanye — to issue statements on police-involved shootings and killings of black men and women.
The day after Sterling's death, Kardashian West wrote a powerful blog post titled "#BlackLivesMatter," in which she wrote about her fears as a mother of a black son and our nation's duty to take action against police brutality.
"I want my children to grow up knowing that their lives matter," Kardashian West wrote. "I do not ever want to have to teach my son to be scared of the police, or tell him that he has to watch his back because the people we are told to trust — the people who 'protect and serve' — may not be protecting and serving him because of the color of his skin."
"We must peacefully use the power of our voices and the strength of our numbers to demand changes in the judicial system so that brutality doesn't ever go unpunished," she added.
The same day that Kardashian West penned her blog post, Kanye shared a link to footage of Sterling's death via Twitter.
The picture seems to add a capstone on the Kardashian Wests involvement with the Sterling family. Yet many other celebrities have show their support for families of victims of police violence in recent months. Beyoncé and Jay Z reportedly donated $1.5 million to #BlackLivesMatter back in February, and rapper Vic Mensa, took to the streets of Chicago on Nov. 25, 2015, to protest the fatal shooting of 17-year-old Laquan McDonald. In August, Beyoncé similarly showed up to the VMAs with a full retinue of "mothers of the movement," appearing on the red carpet alongside the mothers of Eric Garner, Mike Brown, Trayvon Martin and Oscar Grant. 
Every celebrity nod to the movement only helps renew the conversations surrounding black lives and policing, which discouragingly tend to drop from public discourse whenever there hasn't been widely publicized death.