How many seats do the Democrats need to win the House of Representatives?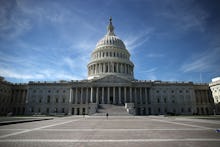 While the race to the White House has enjoyed wall-to-wall coverage this year, House contests have been given little to no attention.
But all 435 House seats are up in 2016, and Democrats are looking to eat into the near-historic House majority Republicans won in 2014.
Democrats would need to win 30 seats in order to take control of the chamber — an unlikely or perhaps even impossible task given partisan gerrymandering, as well as the strength of their candidates in a number of competitive seats.
But it's likely that Democrats will take over at least a handful of House seats across the country.
The Cook Political Report, a non-partisan political handicapping website, says there are 40 competitive races on the map. Roll Call, a Capitol Hill newspaper that has rated congressional contests for decades, estimates the same number of competitive seats.
Roll Call estimates that 12 of those House races are currently rated as "toss-ups." And 11 of those 12 toss-up races are in districts currently held by Republicans.
Four other seats currently held by Republicans are forecast to flip to Democratic control.
In total, of the competitive seats on the map, Democrats could gain between 5 and 20 seats — still far short of a majority. However, they're hoping to push the higher limits of that mark.
For one, Republicans are already saying they want to impeach Hillary Clinton— even before votes have been tabulated on Election Day.
The slimmer the Republican majority, the harder it would be to achieve that task.
Similarly, the narrower the partisan gap, the fewer Republican members Clinton would need to convince to support her agenda.