Rapper Young Thug wants us to "stop believing in genders"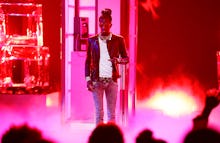 Rapper Young Thug continues to be uneasy with societal ideas of gender. 
On Wednesday, V Magazine unveiled the rapper as a cover star for the November issue. In the article, Young Thug addresses the cover for his August mixtape, Jeffery, which sparked a debate online about whether he was appropriating queer culture. On the album's cover, he wore a periwinkle dress and a cone-shaped hat. 
"Stop believing in genders," the rapper said when asked about his intention behind the visual.
The message is certainly on-brand for Young Thug, who has challenged his fans to think beyond binaries and traditional concepts of masculinity for some time. 
The Atlanta rapper previously told GQ that he liked to wear women's clothing "because women's clothes are [slimmer] than men's clothes." He also said he wears women's jeans, and that 90% of his clothes are women's. 
He has also previously spoken about being able to "be a gangster with a dress" for Calvin Klein's #MyCalvins campaign.
"In my world, of course, it don't matter," he said. "You could be a gangster with a dress. You can be a gangster with baggy pants. I feel like there's no such thing as gender."
Even though the rapper is in a relationship with a woman, he has promised that "there will be two brides" at his wedding and that, "when it comes to swag, there's no gender involved," he told Billboard in September.