Country Music Awards fans fill the show's Facebook with anti-Beyoncé comments in protest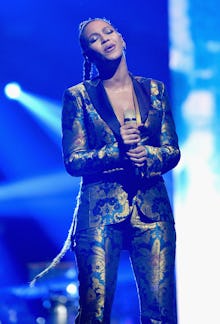 Not everyone looks forward to a Beyoncé performance, it turns out. 
Earlier today, the Country Music Association announced that pop megastar Beyoncé would perform during the CMA Awards' Wednesday night telecast. While the news excited members of the Beyhive, the same was not true of fans of the CMAs. 
Many who felt that Beyoncé should not be allowed to perform at the ceremony labeled her as anti-police and racist, sentiments that people have hurled at the artist since her homage to the Black Panthers at the 2015 Super Bowl, and increasingly so since she posed on a drowning police vehicle in the "Formation" video. 
Most commenters felt Beyoncé was a racist cop-hater, but a few were also concerned the awards show was diluting its country-friendly brand by allowing the pop star to take the stage. 
While haters have crowded the CMA Awards' Facebook page, some are still excited that Beyoncé will be strutting her stuff on stage (and on America's TV sets) tonight. 
All hail the new queen of country: Beyoncé Knowles.