Martha Stewart's Thanksgiving meal kit makes it possible to cook a feast in a tiny kitchen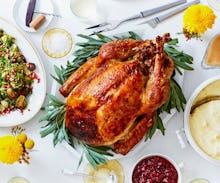 Cooking Thanksgiving dinner isn't for the weak, but under Martha Stewart's wing, anything is possible.
Upon learning that Martha Stewart had created a Thanksgiving meal kit with Marley Spoon, I needed to try it. Never having cooked a turkey before, or pretty much any part of a Thanksgiving dinner, I was up for the challenge of recreating the Queen of the Kitchen's most important meal of the year, guided by her recipes and pre-picked ingredients that arrived at my door, avoiding any and all grocery store hassle, which may just be the worst part of Thanksgiving anyways.
Martha's Thanksgiving Box, which costs $179 and serves 8 to 10 (hungry) people, is shipped in two parts: You receive a turkey from New Jersey's Goffle Road Farms to defrost in your fridge days before the ingredients for the sides arrive, along with recipe cards and an advice pamphlet from Martha herself. Vegetarians can also opt for the $119 box, which has just the sides and no turkey. 
In addition to Martha's turkey recipe, cards with step-by-step recipes for her mother's cream cheese mashed potatoes, stuffing, brussels sprout salad and a homemade apple pie are all included. The recipes are all reportedly Martha's favorite for the holiday, especially the turkey recipe, which she uses every year with "perfect results every time," according to a Marley Spoon representative. 
This year, Martha pre-ordered four of her own Thanksgiving meal kits and plans to cook them all for Thanksgiving. If Martha's not too good to cook holiday meals from meal kits, then I have to believe I'm not either. Here's how it all went down.
Important to know: Kitchen tools were not included.
Martha's Thanksgiving Box comes with ingredients only, so if you're not the most resourceful type, you'll need to be sure you have the following items:
• One turkey roasting pan
It was only after flipping through the recipe cards for roasted turkey, brussels sprouts, mashed potatoes and homemade apple pie that I began to feel overwhelmed. People are supposed to do all of this at once? In one day? I barely have enough counter space to prepare my microwaved edamame when I'm cooking a box of macaroni and cheese, so I knew the logistics would be a challenge. Plus, I was doing it completely alone, which somehow I think Martha would be really proud of. 
Expect to do some serious chopping.
Unlike some other meal kits, Martha's comes with no pre-chopped ingredients. For a woman who expects millennials to be growing tomato plants on their windowsills, this makes sense. For those of us who expect our celery to come in U-shaped slices, this added yet another level of work. What was helpful: The ingredients weren't completely pre-measured, but the quantities were almost exactly what the recipes called for, which made the meal kit pretty easy to work with. 
Martha shares some tips for prepping your Thanksgiving meal in advance, like chopping your vegetables the night before and making mashed potatoes to be reheated, but upon paging through the (very nicely illustrated) recipe cards, I noticed that two recipes called for white wine, if you had it, so I opened up a bottle and decided to prep in the a.m.
You'll definitely want to prep the night before.
I started with the stuffing because the bread was taking up most of my table space and I knew that some of the stuffing would have to cool before it went into the turkey. Because I only own one baking sheet on which to toast my hand-cut square-inch pieces of bread, the first step of this recipe took an hour. 
This ended up being one of the easier dishes to make, though in retrospect, I should have made less stuffing and saved a few slices of bread of a leftover turkey sandwich — lesson learned!
Following the Big Toasting Event, it was time to prep the rest of the stuffing ingredients. I convinced myself that chopping the celery by hand was a much more authentic way to prepare Thanksgiving than just tossing in a bunch of pre-chopped veggies. This may have been Martha trying to brainwash me into finding the joys of chopping, but hey, it worked. 
Cooking Thanksgiving dinner in a tiny kitchen is doable, it just takes some innovation.
While I knew in advance that space would be a problem (some of this meal was prepped on the floor, which was clean, and it's fine!!), I forgot how many tools and utensils I'd need to make this lavish feast. When I moved in with my girlfriend, she owned maybe one pot and a box of cereal, and while I've managed to fill every free inch of space in our kitchen with gadgets and knives and non-stick pans, somehow we had nowhere near enough equipment to make this meal. 
I ended up prepping the stuffing in a soup pot while holding the extra bread in a staging area in our wok, eventually mixing the two once the broth added to the bread made it soggy enough to fit in one pot. 
Martha makes it possible for even the most novice of cooks to successfully roast a turkey.
As the stuffing cooled, I got ready to make my turkey. I rarely ever cook raw meat, not to mention whole animals, so the prospect of cooking a whole turkey was seriously daunting to me. Trusting Martha's guidance, I unwrapped my 12-pound bird (the size of a small dog or an infant, for scale), and pulled out the innards I'd need to make the gravy. Surprise — they were already in a bag! According to poultry cooking experts (my mom), this is apparently normal, even if your turkey wasn't sourced as part of a meal kit. 
A Thanksgiving miracle
It was only once my turkey was officially maimed and waiting in the sink that I realized I didn't have anything to cook it in. While it would have been nice if the meal kit provided a disposable tray and cheesecloth (both needed in the turkey recipe), I saw that Martha's pictures used a roasting pan with a rack, so I set out to my neighborhood kitchen supply store to buy the only one they had. A meal kit with the option for special Thanksgiving equipment would be nice. Or maybe that's called going to a restaurant? Regardless, armed with my new pan, I was ready to cook this turkey. 
Per Martha's instructions, I stuffed my homemade stuffing into both "cavities" (read: butt and neck) of the patted-dry turkey and only slightly felt like I was violating this poor bird that may or may not actually turn out to be delicious.
There was no surface in my kitchen large enough for the roasting pan (the stovetop was already taken), so I precariously balanced my turkey on the edge of the counter and hoped for the best. While I knew that cooking Thanksgiving in a kitchen that has as much space as cubicle was going to be difficult, I can't say that the meal kit made the process any easier. 
After stuffing the turkey and somehow preventing it from tumbling to the ground, I set the tray on the floor for the butter massage. Yes, I rubbed a dead bird with butter that Martha had instructed me to let soften on the counter. The gooey butter massage was much more difficult than it sounded (props to the factory workers at Butterball), but also kind of soothing, and I look forward to one day doing it again. I grew up keeping kosher, so just the concept of a turkey soaked in butter is still a (delicious) novelty. 
After covering the buttery beast in a cheesecloth soaked in (more) melted butter and wine, I had to put the turkey in my preheated oven, legs first. Of course, my oven isn't large enough for a vertical turkey, so I set alarms to rotate it every ten minutes. Martha's instructions also told me to baste the turkey at certain times, but I didn't have a baster, I had a coffee spoon, so I used that. It was fine, and specialty equipment is maybe a scam. 
My turkey rotating plan was a fairly good method, although I forgot that Martha's instructions told me to lower the oven temperature after the first 30 minutes of crisping. I simultaneously forgot that I was melting butter and milk on the stove for the potatoes I had boiling in another pot, so approximately 4 hours into cooking, chaos ensued. 
It's smart to cook with wine, because then you can drink it (and making Thanksgiving is stressful).
I should have set multiple alarms on my phone to remind myself of each dish I was cooking and what needed to be rotated, turned off or stirred rather than relying on my not-at-all-reliable microwave alarm. If you're cooking Thanksgiving, use phone alarms to remind you of everything! This cooking and cleaning disaster would have been averted had I organized slightly better. 
What did end up reminding me was the smoke alarm, and the robotic voice of "fire, fire" calling out through my building. There was no fire, but the amazing Thanksgiving scent in my apartment had been replaced by smoke, and I really wished Martha lived in the building to give me a hug. Instead, I turned to that open bottle of wine from the turkey butter sauce, which she probably knew would be useful at moments like these. 
Because I forgot to turn town the temperature on the turkey, it was cooking faster than I had planned, so I removed it from the oven while I focused on my mashed potatoes and brussels sprouts.
Though Martha told me to skin my potatoes, I left the skin on, because everyone knows the skin is the best part and the healthiest part. I didn't have a potato masher, but luckily I had boiled the potatoes long enough that they fell apart as I smashed them with a spoon. I stirred in my new butter and milk mixture and left the secret ingredient (cream cheese!) to the last minute so the potatoes would be fresh for dinner. This was a good call (Martha instincts!), and everyone should make potatoes this way. 
Martha's brussels sprouts recipe is a salad with raw brussels sprouts, pomegranate (that you have to de-seed yourself — this meal kit isn't cutting any corners) and a homemade apple cider vinegar dressing. The pomegranate seeds were a nice touch, but solo roasted brussels sprouts would have been just fine.  
Don't wear all black to cook (classic New Yorker mistake).
To make the gravy, I needed to boil the insides of the turkey (I'll spare you a picture) with wine (!) and turkey stock and whisk this reduced mixture with a flour paste. If you're cooking, get an apron.
Most of the flour that I spilled while making the gravy was intended for the homemade apple pie. I'd made an apple pie once before and it was a whole day project, and although I wasn't expecting any immediate dinner guests, there was no way in hell that after making a turkey and three side dishes I was going to roll out a homemade crust and bake a pie. No. My guests could have Klondike bars (and they did). 
Instead of a pie, it would have been nice if Martha's team included ingredients for a quick cranberry sauce, or maybe even something for guests to munch on while waiting for me to finish up the turkey preparations and carving. Making an entire dinner and homemade dessert seems unreasonable — especially when you can order a homemade pie over the internet and have it delivered at your door and just lie about the whole thing anyway — and Martha should realize that. 
Martha, are you reading this? According to the American Pie Council (a real thing!), 7% of people have passed off a store-bought pie as their own, which is a complete lie and sample bias. I'd guess the real statistics are closer to 97%, and maybe Martha should conduct her own pie survey before next Thanksgiving.  
Anyway, piesgiving didn't happen, but I did offer my guests whole apples while they waited for me to slice the turkey.
Turkey butchering isn't as hard as it sounds.
I've carved a few rotisserie chickens in my lifetime but never an entire turkey. After realizing I needed a platter to serve it on — I dug up a glass tray that I bought at a flea market and haven't used in two years — I picked up my turkey like a bread-stuffed baby to layer it on the tray. 
The skin was crisp as Peking duck, it smelled amazing and wow, I made that all alone!
Though Martha had instructed me to remove the stuffing from the finished turkey and bake it separately, I had no idea how to do that, especially without ruining my gorgeous bird and therefore preventing me from my fantasy of presenting it like a Norman Rockwell painting to the three people who'd agreed to come over to eat Thanksgiving on Nov. 3. 
And present it I did! I had no idea how to actually cut it, but if you follow the lines of the bird's bones, have a carving knife and a girlfriend who doesn't know how to cook but apparently has great turkey slicing instincts, you'll be able to carve a turkey!
For the gravy, I of course didn't have a warm gravy boat — Martha, who is this kit even for? — but I did have a one-cup French press, which, without the press, was the perfect gravy server and should probably be used at more Thanksgiving tables. 
Just like that, the meal was ready! I rotated the stuffing and turkey through the oven for one last zap of heat, I told my guests that the brussels sprouts were supposed to be served cold (maybe they were!) and I heated the potatoes with cream cheese and a splash of water to freshen them up into the greatest potatoes anyone had ever tasted. 
Overall, the active cooking part of this project took about 8 hours of active cooking time, interspersed with work, a catch-up episode of The Mindy Project and two rounds of listening to the Hamilton soundtrack (which is very American and makes time move faster. Just saying, good Thanksgiving music pick).
The meal was great. Everyone was happy. Somehow they all had room left for cookies and ice cream.