Thanksgiving 2016 gift ideas for a host or hostess — even when they said not to bring one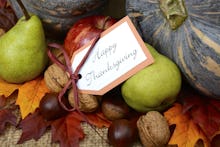 Cool, you're going to a Thanksgiving dinner party. Even though your host said not to bring anything, you know you need to bring it to show your appreciation. And maybe to secure an invitation for next Thanksgiving. Instead of grabbing that store-prepared pumpkin pie that was probably defrosted after being baked in mass sometime in September, bring your host something that's actually special. Here are a few ideas:
A thank you card
No, it's not as delicious as a pie, but a thank you card is legitimately sweet and underrated. Show your host your appreciation and add to their holiday decor with a festive thank you card that will brighten their day long after the guest are gone. 
Try: Thank you, $5 at JunkPunchStuff.com
A six-pack
Six-pack abs are out of the question after your feast, so why not bring some beer and cider to help chase down all the carbs? A six-pack is always a great gift because, most likely, however much booze your host had in stock will be consumed, so it's nice to contribute to the pot or at least give them something they can enjoy after their houseful of guests guzzled most of their liquor stash to the last drop. Bring something fun and seasonal (read: not Bud Light) and maybe include a fun bottle opener as a gift your host can keep beyond all the drinking.
Try: Angry Orchard Crisp Apple Cider, $9.99 at Binnys.com
Hot sauce 
Turkey leftovers too dry? Bland? You've already helped your host by bringing on the spice. If you're traveling, go for a local variety of hot sauces to share with your host, or just find some unique sauces online which will make that leftover turkey anything but boring.
Try: Gourmet hot sauce pack, $36 at Heatonist.com 
Champagne
Here's a secret: Champagne isn't that expensive. Sure, you could go for a $300 bottle of Dom Perignon in the vintage of your holiday turkey's birth year, or you can snag a great $50 option at your local liquor store. Champagne is a great go-to host gift because not only can you impress everyone with the ability to dramatically pop open the bottle, literally everyone is happy when a bottle of bubbly is open! Enhance the mood and treat your host (and yourself, if we're being honest) to Thanksgiving Champagne. 
Try: Nicolas Feuillatte Brut Reserve, $36 at Wine.com
Luxury hot chocolate
There's a lot that makes this a great gift. First, your host probably doesn't buy herself luxury chocolates, so you're treating her to something special that she obviously deserves because she made a goddamn turkey and shared it with you. Second, this gift can easily be hoarded by the host for cold days or shared with dessert, if she's actually that generous.
Try: Godiva hot cocoa variety pack, $25 at Godiva.com
Artisanal bread
Live near a great bakery? Know a great bakery that ships? You just became the best guest ever because you're making the host's day-after-Thanksgiving sandwich the best ever. Maybe you'll even be invited back for leftovers!
Try: Amy's Bread Fig and Toasted Hazelnut Loaf, $4.50 at AmysBread.com
Stylish oven mitt 
If your host was legitimately cooking Thanksgiving (and yes, from a meal kit counts), chances are she probably burned or stained an oven mitt. Replace it before she does with a festive one that she'll be happy to cook with. See how this gift benefits you too? Nice work.
Try: Kate Spade New York diner stripe oven mitt, $15 at Bloomingdales
Food delivery gift card
Show your host your ultimate appreciation by giving them the gift of not cooking in the near future. If your host doesn't live in an area with food delivery, consider signing them up for a meal kit delivery or offer to bring them the meal of their choice in the near future. 
Try: Seamless giftcard, varying amounts at Seamless.com
Hand cream 
If your host doesn't want any food gifts, reward her hard work and all that toil on her hands all day with some luxurious hand cream. It's a gift that will come in handy.
Try: TOCCA Crema Veloce Hand Cream Set, $16 at Sephora.com