Dillard students face pepper spray, arrest at protest against David Duke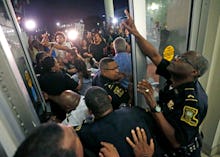 Student and alumni activists faced law enforcement, arrest and pepper spray Wednesday night as they protested former Ku Klux Klan grand wizard David Duke's participation in a debate for Louisiana's Senate seat at historically black Dillard University in New Orleans, the New Orleans Advocate reported.
According to the Advocate, authorities placed under arrest but later released four students, and pepper-sprayed protesters as they attempted to gain entry to Georges Auditorium.
Photos showed a chaotic scene as police stood at the doors of the auditorium, crowds pressed against them.
Campus officials said they had not been aware of Duke's participation when the debate was organized, and Dillard President Walter Kimbrough prohibited protesters and journalists from entering the auditorium.
"Our main focus was getting him not to come," senior Brunisha Jones told the Advocate. "Or, if he did come, let our demands be met. But we soon realized that we had a whole other issue: that our administration would not listen to us."
Duke gained entry to the debate by clearing 5% support in a recent Raycom Media poll. The Klansman came last in the poll against five other contenders including the two highest-polling candidates, GOP state treasurer John Kennedy and Democratic Public Service Commission member Foster Campbell.
His performance at the debate was replete with galling rhetoric about Jews, minorities and whether Democratic presidential nominee Hillary Clinton deserves to be executed.
For his part, Kimbrough said Wednesday that he believed the debate hosts had "rigged" the polls to allow Duke's participation and create a "reality show masquerading as news."