The 5 most important House races to watch in election 2016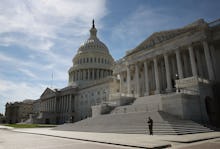 Democrats hope to eat into Republicans' 30-seat House majority on Election Day, making Congress more evenly divided along partisan lines.
In order to do that, they're hoping not only to oust a number of Republicans who won House contests in otherwise Democratic-leaning districts in 2014's GOP wave, but also to win seats in suburban areas replete with moderate Republicans who find Donald Trump an untenable presidential nominee.
Erasing their 30-seat deficit is all but impossible for House Democrats, but they could pick up anywhere from five to 20 seats, according to non-partisan political analysts.
If they are going to reach the higher end of that range, these five seats are the kind Democrats must win.
Florida's 26th District: Carlos Curbelo vs. Joe Garcia
Located on the southern tip of the Sunshine State, voters in this district are majority Hispanic, and President Barack Obama won the district with 53% of the vote in the 2012 presidential election, according to the Cook Political Report's Partisan Voter Index — which breaks down how congressional districts voted at the presidential level.
This seat's Democratic lean and heavily Hispanic makeup makes it ripe for a win for Democrats, who are looking to oust freshman Rep. Carlos Curbelo, a Hispanic Republican who won the seat in the 2014 Republican House wave.
Curbelo is facing the same opponent he ousted two years ago, Democratic Rep. Joe Garcia, who lost his seat in part thanks to his own scandals and flaws as a candidate.
If Democrats can't pick up a seat like this one, however, Nov. 8 could be a long night for the party.
The race is currently rated a toss-up by the Roll Call, a Capitol Hill news outlet.
Iowa's 1st District: Rod Blum vs. Monica Vernon
This northeast Iowa seat has the dubious distinction of being one of the most Democratic-leaning House districts held by a Republican.
In 2014, Republican Rod Blum won the seat, despite the fact that voters here chose Obama by a 14-point margin over Mitt Romney in 2012.
When the election cycle began, this seat looked like one of the most likely to flip back to Democrats, given its strong Democratic lean.
But Donald Trump's strength in Iowa has kept Blum afloat in his battle against Democrat Monica Vernon.
Notably, a super PAC backing Hillary Clinton waded into the race with ads last week, a sign that Blum is still kicking with less than a week to go before Election Day.
Roll Call rates the race a toss-up.
Pennsylvania's 8th District: Brian Fitzpatrick vs. Steve Santarsiero
This suburban Philadelphia House seat is currently held by retiring Republican Rep. Michael Fitzpatrick, who is leaving the House after completing a self-imposed term limit.
Fitzpatrick's brother, Brian Fitzpatrick, is now the Republican nominee looking to keep the seat in Republican control.
While Romney narrowly carried the seat in 2012, it's filled with the kind of moderate Republicans and suburban women that have been rejecting Trump's candidacy, providing Democrat Steve Santarsiero an opening to win.
If there's a Democratic wave forming, it's this seat that would be one of the most vulnerable for Republicans.
The race is rated a toss-up by Roll Call.
Nebraska's 2nd District: Brad Ashford vs. Don Bacon
This Omaha-based House seat is one of the few seats Democrats are defending in 2016.
Rep. Brad Ashford was one of just two Democrats to pick-off a Republican in the 2014 wave, defeating a gaffe-prone and unpopular Republican lawmaker in this swing-seat. He now faces Republican Don Bacon.
Romney won here in 2012 with 53% of the vote.
But Obama carried the seat in 2008. And Democrats are contesting the seat at the presidential level in 2016, as Nebraska is one of just two states that awards its Electoral College votes to the victor of its individual House districts.
Roll Call says the district currently tilts Democratic.
New Jersey's 5th District: Scott Garrett vs. Josh Gottheimer
Despite its slight GOP lean, this northern New Jersey House seat has never really been competitive for Democrats.
But in 2016, longtime Rep. Scott Garrett's conservative orthodoxy may finally do him in.
Garrett has always been one of the House's more conservative members.
But a stunt he pulled in 2015 — in which he refused to donate campaign cash to his fellow House Republicans because they supported LGBTQ candidates — may have been a step too far for voters here.
The district is located in the New York City suburbs, and is filled with moderate voters who are liberal on social issues.
Garrett faces a strong Democratic challenger in Josh Gottheimer, a former speechwriter for President Bill Clinton. Recent polls showed Gottheimer with a slim lead.
Roll Call rates the race a toss-up.