Mila Kunis pens op-ed on gender bias and wage gap in Hollywood: "I'm done compromising"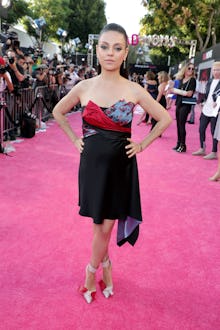 The op-ed is a familiar tool for actors looking to speak out against inequality in Hollywood — think of Jennifer Lawrence's piece on the gender wage gap in Lena Dunham's newsletter, for instance. Now, Mila Kunis has done the same, this time writing about gender bias on Ashton Kutcher's website A Plus.
In the piece, Kunis tells the story of one producer who told her that, because she refused to pose semi-nude in a magazine promoting her film, she'd "never work in this town again."
"I was no longer willing to subject myself to a naïve compromise that I had previously been willing to," Kunis wrote. "I was livid, I felt objectified, and for the first time in my career, I said 'no.' And guess what? The world didn't end. The film made a lot of money and I did work in this town again, and again, and again."
Kunis also, following Lawrence's suit, wrote about the gender wage gap, noting the American Association of University Women study that says, at the current rate, the gap won't close for another 136 years.
She wrote:
Throughout my career, there have been moments when I have been insulted, sidelined, paid less, creatively ignored, and otherwise diminished based on my gender. And always, I tried to give people the benefit of the doubt; maybe they knew more, maybe they had more experience, maybe there was something I was missing. I taught myself that to succeed as a woman in this industry I had to play by the rules of the boy's club. But the older I got and the longer I worked in this industry, the more I realized that it's bullshit! And, worse, that I was complicit in allowing it to happen. 
That's why Kunis created Orchard Farm Productions, her company devoted to making, as she describes it, "quality television shows with unique voices and perspectives." Instead of waiting long past her lifetime for equality, Kunis chose to take matters into her own hands.
"I'm done compromising," she wrote in her op-ed. "Even more so, I'm done with being compromised."