New Hampshire, Ohio and Florida Polls: Where the candidates stand in key states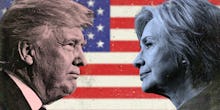 In large part, the outcome of the 2016 presidential election lies in the hands of voters in New Hampshire, Ohio and Florida, three states whose razor-thin margins makes them impossible to call. And according to the latest polls, the race is only getting tighter.
New Hampshire polls
According to a WBUR poll released on Thursday, and reported on by CNN, Donald Trump now boasts a 1-point lead over Hillary Clinton in New Hampshire. In mid-October, another WBUR poll showed Clinton with a 3-point advantage, edging out her opponent 41% to 38%.
New Hampshire's demographics mean both Clinton and Trump have adopted distinctly different strategies to court voters there than they have in other battleground states. As the Boston Globe reported in September, the New England state is "almost entirely white, very well-educated and consistently has one of the highest per capita incomes in the country," which means Clinton's pitch to minority voters and Trump's to the working class isn't enough to move the needle.
Ohio polls
In Ohio, Trump is leading Clinton by an average of 2.7 points at the time of this writing, according to RealClearPolitics. CNN reported that other polls show Trump ahead by as many as 5 points. 
But even though Ohio has predicted the fate of every presidential race since 1964, the 2016 election — which, let's face it, has already defied all logic and challenged every political norm — may prove otherwise. Clinton has at least two clear paths to victory even if Trump takes Ohio.
Florida polls
According to RealClearPolitics, Trump has a small edge over Clinton in Florida, where he has a 0.6-point lead. The site reports that other polls, from CNN/ORC and Quinnipiac, show Clinton 1 or 2 points ahead of Trump.
In August, CNN dubbed Florida the "swingiest swing state" of them all, as presidential candidates in the past have claimed its 29 electoral votes by mere tenths of a point. And, of course, the 2000 election has given the state a fraught history and complicated role in presidential elections since. 
"I would be lying to you if I did not tell you that there is a lot of concern among party people and the election officials in this state that we could have a very, very close election," University of South Florida government and international affairs professor Susan MacManus told CNN at the time. "They are all hoping no more 2000 elections."