Florida Senate Race Election Night Results 2016: Marco Rubio clinches re-election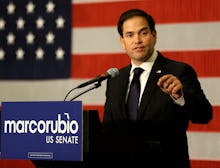 Incumbent Sen. Marco Rubio has held on to his Senate seat in Florida, according to the Associated Press, which tweeted his re-election just after 8 p.m. Eastern Tuesday.
After a bruising run to become the GOP presidential nominee, Rubio returned to the Sunshine State to campaign to keep his job in Congress. Rubio beat out his challenger, Democrat Patrick Murphy, a former U.S. House representative, in what was a tough race in a battleground state for the presidential election.
Rubio took a hit after slamming Republican presidential nominee Donald Trump throughout the primary campaign but said he would endorse him over Democrat Hillary Clinton.
"Donald Trump is committed to cut taxes, curb spending and get our national debt under control," Rubio said in a video message in July at the Republican National Convention. "Unlike Barack Obama and Hillary Clinton, Donald Trump takes seriously the threats from Islamic radicals and is committed to rebuilding our military." 
Murphy hit Rubio on spending so much time to run for the White House, only to come home to Florida and campaign to keep his Senate seat in Washington. "He doesn't want the job," Murphy told Politico. "He doesn't like the job. He views this as a consolation prize."
Rubio had been leading in the polls heading up to the election. A New York Times' Upshot/Siena College poll conducted from Oct. 25 to Oct. 27 showed Rubio ahead by 9 percentage points.
FiveThirtyEight projected Rubio as having an over 80% chance of winning the Senate seat.