Beyoncé deserved to be on the 2016 CMAs stage as much as anybody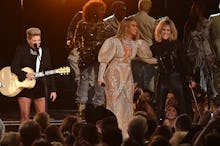 Wednesday night, the audience at the 50th annual Country Music Association Awards experienced a revelation: Beyoncé ascending to superstar status in yet another genre. The pop icon, who has by turn also ruled hip-hop, EDM, gospel, jazz and rock, took the stage at the top of hour three with the Dixie Chicks for a rendition of Lemonade's Texas ode, "Daddy Lessons."
The quartet's performance was stellar. Beyoncé added a little dusty rhinestone flair to her usual R&B glamour, but kept her sound and style mostly intact. It proved two things: one, that Beyoncé's iron-strong voice can settle smoothly into just about any context; two, country is far more flexible than most listeners likely give it credit for.
Yet not everyone in the audience was willing to see it that way. The backlash to the choice to invite the "cop hater" Beyoncé into country's club started almost immediately after the performance was announced Wednesday. 
Racism sat at the core of many of the tweets in varying degrees, with some viewers objecting to the fact a black artist was defiling a so-called white genre.
The problem with all of it? Country, like pretty much all other American musical genres, has black roots — as many on Twitter attempted to point out — and they run deep.
The popular conception that country music is a primarily white genre is, well, a white lie. Some of the very first artists to build out the country appellation were black artists, such as DeFord Bailey, a black harmonica player and Grand Ol' Opry star, Clarence "Gatemouth" Brown and Charley Pride, who became RCA's best-selling artist since Elvis in the '70s.
Essays collected in the 2013 collection Hidden in the Mix: The African American Presence in Country Music, additionally detail how black artists were involved in many early interracial recording sessions on hillbilly and country music. However, their contributions were often scrubbed out, appropriated or glossed over. As David Whiteis wrote in a piece for the Chicago Reader that outlined the buried links between country, Western, white folk and blues:
The black plantation musician of the 1920s led a dual life. He played blues and contemporary dance numbers for black house parties and juke joints, but was also often called upon to perform at white functions. For these he'd modify his repertoire considerably to include pop songs, vaudeville-style novelty numbers, and the folk-based ballads and dance tunes that eventually gave birth to bluegrass and western swing, important precursors to modern country-and-western music.
Another fun fact: Ray Charles' Modern Sounds in Country and Western Music, bridging the gulf that had spread between soul, gospel and country, became ABC Records' first million-plus-selling album. Praising that album, country's number one outlaw Willie Nelson claimed that Charles "did more for country music than any other living human being."
Perhaps the coup de grace in this tangled web of racial influences in country is the banjo. Perhaps the most iconic boot-stompin' country instrument, the banjo comes from West Africa. It's a history many modern folk and country musicians, from the Carolina Chocolate Drops and Rhiannon Giddens to Dom Flemons, have being working to keep alive. Otherwise, it may be forgotten.
It's understandable why country is not largely associated with black culture. There are still only three black names in the Grand Ol' Opry registry, and there's a widespread conception that country music isn't welcoming to black influences — this despite the increasing number of crossover collaborations between country superstars and black pop stars and rappers. That's why Beyoncé's presence felt so necessary. It's a reminder that country is not and has never been a racially exclusive institution, despite what some of its fans would like to believe.