Clinton, Trump Polls: Here's what the latest presidential polls reveal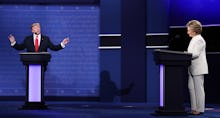 As the 2016 United States presidential candidates hurtle through one last campaign push before Election Day, recent polls reveal that the race to the White House might be tighter than anyone anticipated.
New CNN/ORC polls show Democratic candidate Hillary Clinton with a 4-point lead in battleground state Pennsylvania, and also have her edging out Trump in Florida with 49% compared to Republican candidate Donald Trump's 47%. 
The poll also has Trump ahead 49% to 43% in Nevada, and poised to take red-leaning Arizona by five points.
A New York Times/CBS News poll released Thursday similarly found that Clinton still leads the race — but narrowly. The poll found that with just five days to go until the general election, Clinton has the support of 45% of likely voters, compared to Trump's 42%. 
Prior to FBI director James Comey's announcement that the agency was reopening its investigation into Clinton's email scandal after potential new evidence was discovered through an investigation, the Democratic candidate's lead was stronger. But since the late October announcement, her poll numbers have suffered, reducing what once seemed like a guaranteed victory to a tight race once again.
As the Times noted, the deadlocked poll numbers aren't entirely unfamiliar: In 2012, incumbent president Barack Obama ran against Republican Mitt Romney in a similarly tight race, eventually sliding by Romney to win his second term by just under four percentage points in the popular vote.
With just days to go until the election, it remains to be seen whether or not the polls will serve as accurate windows into the future, or if there's a "November surprise" in store for America.