Voting by text for Hillary meme real or fake? How trolls are attempting to sabotage voters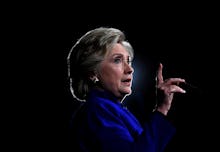 Election Day is around the corner and some of Donald Trump's supporters are doing everything in their power to give their candidate a fighting chance. That includes scamming social media users into thinking they can vote by text message.
To set the record straight: You cannot vote via text or online. At all. Possibly never. But that didn't stop the trolls from trying to convince Hillary Clinton's supporters otherwise. 
The ads began circulating on Twitter earlier this week, according to the Washington Post, with some even written in Spanish. 
Twitter user Robert McNees, a professor at Loyola University Chicago, noticed the trend and reported it to Twitter. At first, Twitter maintained that the fake ads did not violate the company's terms of service. 
Later, however, Twitter changed their mind. The company's CEO, Jack Dorsey, said the issue had been "fixed."
Just so it's clear, one more time: You absolutely cannot vote with text messaging. It's a scam.