Boynton Beach, Florida, mosque was defaced with racist and Islamophobic graffiti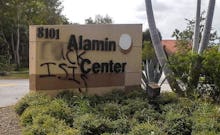 A mosque in Boynton Beach, Florida, was vandalized with racial and anti-Muslim epithets in black spray paint on Wednesday.
The entrance of the sign of the Alamin Center was defaced with "Fuck Islam" and "Fuck ISIS."  The Palm Beach County sheriff's office is currently investigating the crime and has not yet responded to Mic's request for comment.
This anti-Muslim incident occurred only three days after Islamophobic remarks were written on the door of a dorm belonging to two Muslim students at Brown College at the University of Virginia, according to the Cavalier Daily. "Terrorist" was written on their door in lead pencil.
Targeted attacks against mosques have quadrupled from 2014 to 2015. In fact, according to the Council of American Islamic Relations, 2016 is on track to being one of the worst years for anti-mosque incidents. As of mid-September 2016, excluding threats and protests, there were about 55 reported anti-mosque incidents. To put that number in perspective, there were a total of 79 reported anti-mosque incidents for the whole year of 2015. In 2014, there were only 20 reported incidents.
This incident in Florida is another example of the plight and alienation Muslim Americans face. Wilfredo Amr Ruiz, CAIR-Florida spokesman, alluded that the xenophobia in this presidential election has been "fueling" these anti-Muslim incidents.
"Our community continues to suffer from an increase in hate crimes and hate incidents," Ruiz said in a statement, according to local ABC affiliate WPLG. "We still have fresh in our memories the recent hate crime committed at the Islamic Center of Fort Pierce that was attacked by an arsonist."