'Vampire Diaries' star Ian Somerhalder asks fans to consider important topic before voting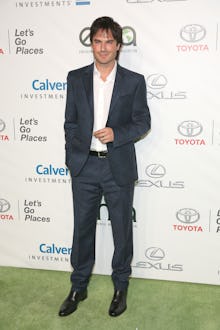 Is there anything scarier than horny vampires? Vampire Diaries star Ian Somerhalder wants his fans to recognize a tangible, real-life fear ahead of the 2016 presidential election: the effects of climate change. On Wednesday night the actor shared a photo on his Instagram of a March 2016 article from the Miami Herald, in which Florida officials banned the use of the term "climate change." 
"How does this make you feel Florida?" Somerhalder wrote in the caption. "We need real leadership. For you. For us ... I know so many of you don't want to hear this but [Donald Trump] will turn a blind eye to climate change."
If this seems a bit off-kilter for an actor best known for his role on a vampire series, Somerhalder has the credentials to back it up. He and his wife, Nikki Reed, are two of a handful of celebrity correspondents on National Geographic's episodic documentary series, Years of Living Dangerously, chronicling first-hand accounts of how climate change has affected individuals around the world. 
"We have to stop putting so much carbon in the air," Somerhalder told Grist in a November interview about the series. "It's the biggest issue facing mankind." 
How, exactly, does this relate to Trump's candidacy? The real estate mogul has repeatedly suggested that climate change isn't real. Instead, per a 2012 tweet he has since deleted, Trump has said it's a hoax "created by and for the Chinese in order to make U.S. manufacturing non-competitive." The presidential candidate tweeted similar comments about climate change being a hoax in 2014.
From Somerhalder's perspective, if the biggest threat facing humanity is denied by a potential president, that candidate is unfit for office.