The 'Special Relationship' podcast: Is Election 2016 really so strange?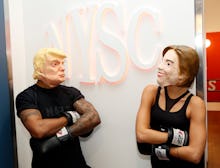 Right on the cusp of Election Day, the downright bizarre 2016 United States presidential cycle continues to make history — and sometimes, to boggle the mind.
To put the astounding political mayhem into context in the home stretch of the race, Special Relationship, the politics program from Mic and the Economist, reached out to distinguished podcasters on both sides of the pond.
First up: Ken Rudin, the award-winning National Public Radio and ABC News veteran best known as "The Political Junkie" and host of the long-running podcast of the same name. 
Rudin draws on the expertise of decades of news coverage and analysis to unpack the tight, breathtaking and scandal-scarred brawl between Hillary Clinton and Donald Trump.
Next, weighing in from the U.K.: Dan Snow, aka "The History Guy." 
Snow, a BBC host who takes listeners on far-flung adventures via his History Hit podcast, takes the episode's question global as he contrasts the oddities of the current American presidential campaign with legendary tales of Parliament, the papacy and beyond.
Our producer is Alan Haburchak, and our theme music is composed by Breakmaster Cylinder.
Subscribe to Special Relationship on iTunes, Google Play or wherever you listen to podcasts. Please rate us and leave a review — and stay tuned for our 18th episode right after Election Day.