Florida Election Results Live: Donald Trump beats Hillary Clinton in presidential race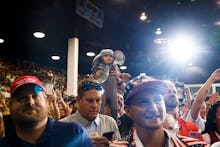 Donald Trump has defeated Hillary Clinton in Florida, one of the country's most hotly contested battleground states. 
With nearly half of Florida's registered voters casting their ballot before Election Day, turnout on Tuesday seemed likely to approach or exceed 2012. In that race, more than 8.5 million Floridians cast ballots. 
So far, Florida has not reported long lines seen elsewhere. Florida news outlets largely reported that voting ran smoothly throughout the morning and afternoon. But millions of votes were still expected to be cast on election day in Florida, where most of the polls close at 7 p.m. Eastern. 
Early voting results in Florida show Democrats leading Republicans in terms of number of votes cast by 40% to 38%, a lead of about 90,000 ballots, although that's not necessarily an indicator of which leading candidate — Democrat Clinton or Republican Trump — they voted for, according to CNN. 
As of Monday, 6,424,595 Floridians had cast absentee ballots or voted early, an uptick of 7% from the total votes cast in the famously tight race between between George W. Bush and Al Gore in 2000.
Ahead of Tuesday, Clinton, Trump and their surrogates frequently canvassed in Florida in an effort to secure its 29 electoral votes. Clinton targeted a surge in Latino voters in her bid for the state while Trump aimed to motivate enthusiastic white voters.   
Clinton led Trump by an average of 4 points until two weeks before the election, when Trump surged into a narrow polling lead, within the margin of error. 
Since 1976, Floridians have voted with the winning presidential candidate all but once. The state's 20 million residents are used to being under the microscope every four years. Bush beat Gore by a few hundred votes in the state in 2000, and Barack Obama won the state by less than 1 point in 2012. 
This story will be updated throughout the day. Check back for the latest election results. 
Nov. 8, 2016, 10:55 p.m. Eastern: This story has been updated.