The audacity of risk: Will Clinton's gambit to win Arizona prove folly on Election Day?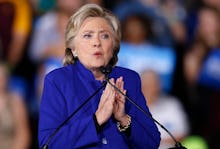 PHOENIX — Hillary Clinton made a swing out west on Wednesday, rallying Latino voters and making her final argument to in Nevada and Arizona with six days left in a campaign that appears to be rapidly tightening.
Clinton's appearance in Arizona — a state which only one Democratic nominee has won since 1952 — was an attempt to peel support from Trump in this once-solidly Republican state.
The trip was announced just before FBI Director James Comey's letter to Congress shook the race last Friday. The Trump campaign, sensing blood in the water, has since announced plans to run ads in and contest Wisconsin, Michigan and Pennsylvania.
Pre-Comey, then, a trip to Arizona underscored the Clinton camp's confidence that they were not only positioned to defeat Trump, but to do so big league. Her decision to stick to the plan after the FBI's bombshell — and to ramp up her attacks on Trump's character and competence — reflect a desire to move beyond the email fracas, but that strategy is not without risk as the race tightens in states like New Hampshire and Colorado. Along with Pennsylvania, those states have been key to Clinton's electoral firewall, with her once-healthy leads there once seen as all but closing off Trump's path to victory.
In a coincidence symbolic of Clinton's tendency to be overshadowed — by her opponent or by black swan events — Clinton spoke to a crowd of 15,000 people at Arizona State University, one of the biggest crowds she has drawn this campaign, just as the rest of the country was watching the Chicago Cubs go to extra innings in Game 7 of the World Series.
A grueling day in the air and on the trail
Leading up to Clinton's western swing, communications director Jennifer Palmieri told the press that Clinton planned "to lay out what life would be like in America under a President Donald Trump and compare that to what life would be like under a President Hillary Clinton." She brushed off suggestions that the campaign was nervous given recent polling.
Upon arriving in Las Vegas, Clinton headed to stops at a nearby field office and a hair salon, surprising volunteers and patrons and posing for photos. She then arrived at the union hall where 463 attendees were waiting.
After an introduction by Democratic Senate candidate Catherine Cortez Masto, Clinton asked the crowd to "imagine with me what it would be like to have Donald Trump sitting in the Oval Office next January."
"Someone who demeans women, mocks the disabled, insults Latinos and African-Americans — what would it be like to have that person in the most powerful office in the world?" Clinton asked, rattling off the core constituencies she hopes to rally in the last days of the campaign. Latino voters make up 17% of the eligible voter pool in the state, making Nevada the sixth-most Latino-heavy electorate in the country, according to Pew.
Clinton targeted her pitch in the state at the various demographic groups whose turnout rates will help decide the outcome on Nov. 8. Under President Trump, Clinton warned, Latinos would have "a president who doesn't see you as American at all." African-Americans "would have a president who thinks their lives are all crime and poverty and despair." Muslims would "be viewed with deep suspicion."
It was a dark message from Clinton, and deliberately so. As the FBI story has sucked up most of the oxygen in campaign news, Clinton has been eager to shift the focus back to Trump and his controversial statements and actions. She didn't mention the email story in either appearance Wednesday, and the focus of both speeches was the potential impact of a Trump presidency. The message was less "hope and change," more "fear and loathing."
Phoenix rising
An hourlong flight then brought Clinton and her entourage of staff and press to Phoenix. An aide told reporters that 15,000 people were waiting for her at Arizona State University for an outdoor rally on campus.
Following a short bus ride, the press plugged laptops and iPhones into powerstripes on outdoor tables behind the crowd. A massive "STRONGER TOGETHER" sign provided the backdrop for the stage.
A group of pro-Trump protesters could be heard faintly chanting and seen holding aloft vulgar signs about Clinton from an overflow area behind the main event space. One held a sign that read "HILLARY C***ON," possibly an homage to the Texas Agricultural Commissioner's misogynistic slur against Clinton this week.
Clinton delivered her standard stump speech, with lines about immigration reform and Native American issues sprinkled throughout. She received her biggest applause when she blasted Maricopa County Sheriff Joe Arpaio, the hardline anti-immigrant provocateur who has been accused of abuse of power and discrimination against people of color. She slammed Trump, reiterating the doom-and-gloom message she had delivered earlier in Nevada.
Cautious optimism
Arizona will be an uphill climb for Clinton to win. Until recently, Trump was considered the heavy favorite to win the state. Following the revelations of the infamous Trump tape and his sinking poll numbers, Clinton's campaign poured money into the state to try to capture its 11 electoral votes. Polls in the state since have been closer, but most projections give Trump the edge to win.
The Clinton campaign is still hopeful, even as recent moves to shore up support in states like Michigan and Pennsylvania cast doubt on how much Clinton will be able to dramatically expand the electoral map. (A Democratic-aligned pollster Thursday did find Clinton up 45% to 44% in Arizona, in a survey taken entirely after the Comey letter.)
"In Arizona, in the early vote, we are tied. At this point last year, Democrats were down nine points," Palmieri, the communications director, said. "Arizona's a tough state, but we feel good about where we are."