Netflix November 2016 releases: 4 new Netflix Originals to binge this month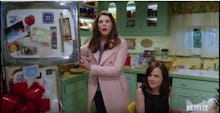 This November, the Chicago Cubs won a World Series for the first time in over 100 years, and a racist demagogue with a history of sexual assault could be elected as the next Commander in Chief. What the hell is happening? 
Good thing we still have Netflix, which, for many people, is the ultimate binge-watching method of escapism. For as chaotic as November has already been, the streaming service is here with some great additions to its library — some of which are Netflix Originals, including its heavily hyped Gilmore Girls revival series.  
Here's four Netflix Originals which are worth checking out in November, assuming we survive the Trumpocalypse. 
The Crown (Nov. 4): 
If it matters, you would hurt Netflix's feelings if you didn't check out The Crown, which is reportedly the most expensive television series ever made. But the show — based on the early life of Queen Elizabeth II — shouldn't just be recognized for its pricey budget. 
The early reviews for the series have been quite positive, praising the lead roles of a young Elizabeth (Claire Foy) and Prince Philip (Matt Smith) as well as its stunning costumes and set pieces (though one hopes they'd look good with that price tag!). This is a must-watch series for fans of period dramas, or anyone looking to fill a Downton Abbey-sized hole in their hearts. 
Plus, if The Crown has Emmy consideration next year, maybe some of the cast will actually show up — ahem, Dame Maggie Smith. 
The Ivory Game (Nov. 4): 
The documentary, produced by Leonardo DiCaprio, follows the illegal trade of ivory that is pushing elephants to the brink of extinction. Yes, this isn't an uplifting choice, but creating a conversation about this issue is necessary — and The Ivory Game has been praised for doing so. 
Take this brilliant, yet depressing excerpt from Owen Gleiberman's review of the documentary for Variety: 
"The film explains how elephants, who live to be 60 or 70, have memories rooted in that slow buildup of years and in the loyal families they form. They're a matriarchal society, with the mysterious vibratory sensitivity of dolphins, and the notion that the human race could now be on the verge of wiping them out is beyond unthinkable. It's not just cruel or obscene (though it is very much both). It's dystopian. If we allow elephants, as a species, to be extinguished from the planet, then what's next? What does it say about who we are and what we're becoming?" 
Gilmore Girls: A Year in the Life (Nov. 25): 
The wait is almost over for Gilmore Girls fans to check in on Stars Hollow for the first time in nearly a decade. A Year in the Life is coming on Thanksgiving and, as the name suggests, will trace the Gilmore's across all four seasons of the year. 
It'll be full of cameos from old cast members and fans are, in a word, excited. 
"It's one of those shows that I grew up with, so it has such an incredible sense of nostalgia when I watch it," Self-professed Gilmore Girls fan Sibley Silcox told Mic in June. "I can't wait to see what they do with these new installments."
3% (Nov. 25): 
We may have way too many young adult dystopian-centric series — and Hollywood needs to chill out — but an exception should be made for 3%. The Netflix Original comes out of Brazil, and has an interesting premise: Only 3% of the world's population will be allowed to go to the "better side" of the world, the Offshore. The rest will live in poverty. 
Everyone's given a chance to make it to this utopia, which means fierce competition among those who go through "The Process." It feels like the love child of the Brazil-based City of God and Battle Royale, which is enough to warrant binge-watching consideration. Besides, if Trump becomes president, this may be good practice.