'Atlanta' soundtrack: Here's every song from the show, broken down by episode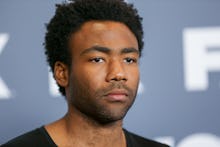 What would a show called Atlanta be without a fire soundtrack? A travesty, perhaps. An embarrassment to the current capital of the hip-hop world? Whatever it would be, it likely wouldn't have broken viewing records and get pundits wondering aloud if diverse TV is actually "here to stay."
By and large, Donald Glover's show has been a critical and commercial success, in no small part due to the strength of the music in conjuring Glover's vision of ATL. The soundtrack has been partially a way for Glover to test his new music, which may appear on his upcoming Pharos project, and to give a bump to some Atlanta hip-hop legends. The show includes music from Atlanta rappers OJ da Juiceman, Rich The Kid, Young Thug and of course, the legendary Outkast — though Glover slyly held that final blast until Tuesday's final episode, playing Outkast's "Elevators (Me & You)" in the season's final moments.
"The song is very optimistic, but it's also realist," Isaac Hagy, one of the show's editors, told the Washington Post in a post celebrating the song choice. "It's very much about struggle, but [also] about family. It just all ties together what I feel like is at the heart of the show."
There hasn't been an official soundtrack announced as of yet, but Playstation Music has been collecting the songs that appear in the show in a Spotify playlist and FX has been breaking down the music by episode on their site. Check out the breakdown episode by episode below.
Episode 1: "The Big Bang"
Migos, "One Time"
OJ da Juiceman, "No Hook"
Sango and Waldo, "SNS"
The System, "Don't Disturb this Groove"
Doe B, "Let Me Find Out"
Episode 2: "Streets on Lock"
Yo Gotti, "Law"
Rich The Kid, "Running Threw It"
Bill Withers, "Grandma's Hands"
Episode 3: "Go for Broke"
Kodak Black, "Skrt"
Cousin Stizz, "Shoutout"
Migos, "Cook It Up"
Lloyd, "Get It Shawty"
Cheryl Lynn, "Encore"
Shabazz Palaces, "An Echo From the Hosts that Progress Infinitum"
Max P., "Gang"
Migos, "Spray the Champagne"
Episode 4: "The Streisand Effect"
Xavier Wulf, "Philosophers Throne"
Beach House, "Space Song"
Lee Fields, "Could Have Been"
Kieth Ape, "It G Ma"
Michael Kiwanuka, "Home Again"
Episode 5: "Nobody Beats the Biebs"
John Wigneswaran & Nicholas Hagelin, "Heartbeat"
Decatur Redd, "Turn Up"
Billy Paul, "Am I Black Enough For You?"
Nappy Roots, "Feeling Like"
Rex Schnelle, "Always Be 17"
Sweatbeatz, "Put It in My Face"
Episode 6: "Value"
The Ebonys, "It's Forever"
George Benson, "This Masquerade"
Jeremih, "Oui"
Funkadelic, "Hit It and Quit It"
Episode 7: "B.A.N."
Sir ft. Big K.R.I.T., "Cadillac Dreams"
Episode 8: "The Club"
Future, "Real Sisters"
Young Dro, "We In da City"
Gonage & Steve G. Lover III, "Spray"
Young Dolph, "Get Paid"
Crime Mob, "Knuck If You Buck"
Adamn Killa, "Back 2 Ballin"
Dreezy ft. Jeremih, "Body"
Young Thug, "Digits"
Jeremih ft. Ty Dolla $ign, "Impatient"
The New Bloods, "Self Service"
Baby Huey, "Hard Times"
Black Dave, "Hangover"
Episode 9: "Juneteenth"
Kamasi Washington "Change of the Guard"
Kamasi Washington "The Rhythm Changes"
James Cleveland "Save Me Lord"
Sam Cooke "Chain Gang"
Episode 10: "The Jacket"
D.R.A.M. ft. Lil Yachty, "Broccoli"
iLoveMakonnen, "Flippin All Night"
Nelly ft. City Spud, "Ride Wit Me"
Erykah Badu, "Other Side of the Game"
OutKast, "Elevators (Me & You)"