Pennsylvania Senate Race Results 2016: Pat Toomey is re-elected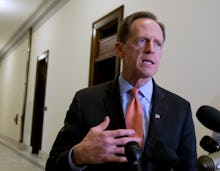 Republican incumbent Sen. Pat Toomey has won the Pennsylvania Senate race, according to early election results.
It's been a close race in the Keystone State. Katie McGinty, a former environmental adviser during the Clinton administration, has led in the polls leading up to Election Day — but only by single digits. A CNN/ORC poll conducted from Oct. 27 to Nov. 1 has McGinty ahead by 5 percentage points.
Although Toomey did not endorse GOP presidential nominee Donald Trump, he would not say who he was voting for. "I've been very public about my many disagreements with Donald Trump," Toomey said during a debate on Oct. 17, according to radio station KYW. "I have been willing to criticize him because I think he is a badly flawed candidate."